These 11 Awesome Diners In Texas Will Make You Feel Right At Home
Sometimes, we just want two things in life: for the '50s to come back, and for a juicy, delicious burger and fries to get in our belly. Luckily, you can have both of those things simultaneously at the best diners in Texas. Because really — does it get any better than jukebox tunes and greasy comfort foods? We think not. So, we've found some wonderful eateries in the Lone Star State that will make you feel right at home. Enjoy!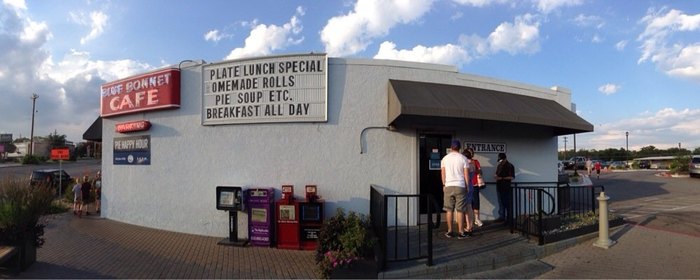 Have you been to any of the best diners in Texas? What other eateries would you add to this list? Please share your thoughts and opinions in the comments! And if you know another incredible attraction in the Lone Star State, nominate it for a chance to be featured.
If you're looking for more delicious comfort food in Texas, check out our previous article: 10 Rural Restaurants Around Texas That Are So Worth The Drive.
OnlyInYourState may earn compensation through affiliate links in this article.
Address: Blue Bonnet Cafe, 211 US-281, Marble Falls, TX 78654, USA
Address: 2100 Yale St, Houston, TX 77008, USA
Address: 3704 Kerbey Ln, Austin, TX 78731, USA
Address: 2417 Westheimer Rd, Houston, TX 77098, USA
Address: 5222 Burnet Rd #550, Austin, TX 78756, USA
Address: 2014 Irving Blvd, Dallas, TX 75207, USA
Address: 8315 Broadway St, San Antonio, TX 78209, USA
Address: 1123 W Davis St, Dallas, TX 75208, USA
Address: Stevie's Diner, 5500 N Tarrant Pkwy #132, Fort Worth, TX 76244, USA
Address: 704 Ayers St, Corpus Christi, TX 78404, USA
Address: 1508 Broadway St, San Antonio, TX 78215, USA
best diners in Texas
July 08, 2020
What are the best places to get comfort food in Texas?
Looking for the best comfort food in Texas? You have so many options. For starters, head to Hoover's Cooking in Austin. This beloved eatery makes some of the most delicious chicken fried steak, BBQ, and sides around. Each bite will fill you with joy and happiness. If a juicy steak is your idea of a comforting meal, check out the best small town steakhouses in Texas. Each place featured in this article will knock your socks off.
What are the best nostalgic restaurants in Texas?
If you want to take a step back in time while satisfying your sweet tooth, check out these delightful old-school chocolate shops in Texas. You'll love the retro atmosphere and whimsical treats. For more fun, visit The Buda Soda Fountain. In addition to their decadent milkshakes and malts, this nostalgic eatery whips up magnificent burgers. As soon as you dig in, you'll be transported to a simpler time.
What are the best 24-hour diners in Texas?
Who says you have to eat dinner before the sun goes down? March to the beat of your own drum and enjoy a late-night meal at one of Texas' all-day eateries. In addition to Kerbey Lane, mentioned above, Austin is home to the spectacular 24 Hour Diner. Yes, you could pop by at 2 a.m. and devour a hearty plate of eggs and bacon. Their milkshakes are equally delicious.