This Alligator Park In Texas Is Also A Restaurant And It's Fun For The Whole Family
If your family outings are getting a tad stale, we know of the perfect place to shake things up. Gator Country is an alligator farm in Texas where you can see two of the world's largest gators – and even enter a wading pool with some of the smaller ones. With swamp tours, a petting zoo, and a restaurant, it's tons of fun for all ages. Come eat crawfish and swim with gators – you'll never forget the experience!
If you want more Texas restaurants, make sure to click our newsletter signup link and get all the latest updates on the best restaurants in Texas. Every Thursday, a new eatery to try in the Lone Star State will be delivered straight to your email. Yum!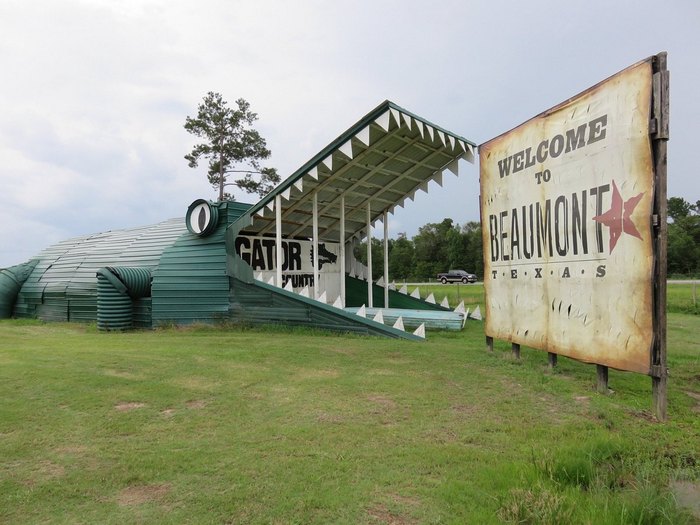 Visit the Gator Country website or Facebook page for more information, including prices for all the different attractions and a full menu.
Have you ever been to this family attraction and alligator farm in Texas? If so, we'd love to hear all about your experience in the comments! Don't forget to check out our previous article for another unique animal-centric dining experience you can only have in Texas.
OnlyInYourState may earn compensation through affiliate links in this article.
Address: Gator Country, 21159 FM 365, Beaumont, TX 77705, USA
An Alligator Farm In Texas And Other Experiences
February 10, 2023
Are There Any Animal Encounters In Texas?
There are several unique animal encounters in Texas, including this alligator farm in Texas.
Longneck Manor in Fredricksburg is a giraffe encounter located over a hundred acres in Texas Hill Country, and offers an overnight stay in a Safari-themed barn. Guests can watch the giraffe-handlers in action, and will have the opportunity to feed the long-necked animals.
Preston Trail Farms in Gunter is a free-admission petting zoo that is ideal for the youngest animal-lovers. This gentle experience lets guests get up-close-and-personal with farm animals, and take a little trail ride around the farm.
What One-Of-A-Kind Destinations Can I Visit In Texas?
An alligator farm in Texas with an attached restaurant is certainly a one-of-a-kind attraction, and that's just one of the quintessentially Lone Star attractions waiting!
Sparky Park in Austin is a former electrical substation that has been transformed into an independent art installation, now home to dozens of unique sculptures and mosaics made out of everyday objects including mirror balls, broken dishes, and seashells.
Barney Smith's Toilet Seat Art Museum in San Antonio is under new management, but this quirky museum still features hundreds of detached toilet seats that have each been turned into a one-of-a-kind canvas.
What Are The Most Unique Restaurants In Texas
The Gator Country restaurant is certainly an unique choice for lunch or dinner, but these restaurants take it to a whole new level.
Chef Point in Watauga is a high-end bar-and-grill located inside a working gas station, and this fast-growing local chain near Dallas surprises locals when they see just how good the food is! Unlike many gas station restaurants, this place is more like a gastropub.
Launderette in Austin is located in a converted laundromat, and you can still see the remnants of the old college town business. But today the only thing coming out is top-notch brunch, lunch, and dinner options.