There's No Chapel In The World Like The Glass Church In Southern California
Churches serve many purposes. People attend for ceremonies, such as weddings and baptisms. They form strong ties with their church communities, and they find comfort in the familiar rituals of their religion. While you might consider all of the beauty of the earth to be very closely connected to a higher power, you might not think of your church itself as a place to commune with nature – usually, our chapels and cathedrals are all about the manmade beauty that we create in order to worship and honor God. The Wayfarer's Chapel, also known as The Glass Church, is a very spiritual place, but it is a little bit different. You'll fall in love with the beauty of this unique chapel in Southern California.
The chapel was designed by famed architect Frank Lloyd Wright's son, Lloyd Wright. He envisioned the chapel as a sanctuary in the middle of beautiful natural surroundings – a place where architecture and nature come together to celebrate life and worship God.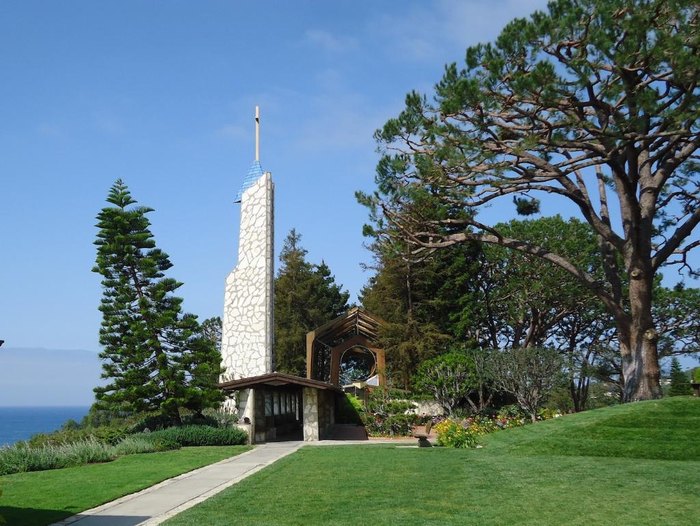 The Glass Church is located at 5755 Palos Verdes Drive South, Rancho Palos Verdes, CA. Visit the website for more information on the most unique chapel in Southern California.
This is just one of many beautiful churches in Southern California. For more breathtaking views, take a look at these 10 beautiful churches.
OnlyInYourState may earn compensation through affiliate links in this article.
Address: 5755 Palos Verdes Dr S, Rancho Palos Verdes, CA 90275, USA
unique chapel in Southern California
August 07, 2020
Are there any castles in SoCal?
Southern California may not be known for historic castles, but it is home to a hidden few. Pyne Castle is known for its expansive grandeur and money-laden past and is located in Laguna Beach, California. In Glendora, you'll find a free-wheeling bohemian vibe at Rubel Castle. Hearst Castle isn't quite in SoCal, but it's on the central coast and is a sprawling 68,500 square foot castle with 38 bedrooms and two swimming pools. Of course, there is always the grand castle at Disneyland, known to be home to Sleeping Beauty and a prime monument to a California childhood.
Are there any treehouse restaurants in SoCal?
You won't find yourself suspended in the air at Cliff's Edge in Southern California, but you'll still feel as if you've stepped into an exotic treehouse with cozy touches. You'll find the Sunset Boulevard location under a natural canopy of trees and a series of romantic lights. We'd highly recommend that you visit Cliff's Edge in the nighttime when the moody atmosphere is set to light by candles and low-level illumination.
What are the most beautiful churches in SoCal?
SoCal has a history of Catholicism due to its initial Spanish and Mexican roots, and there are a series of temples, worship halls, and churches that tend to be considered some of the most beautiful in the state. The Glass Church in Rancho Palos Verdes is made almost entirely out of glass, which means you can experience the great outdoors during worship. The Mormon San Diego Temple has spires that seem to reach straight to heaven, and the chapel at Mission Santa Barbara will take you right back in time to its dedication in 1820. We'd also recommend visiting the Pasadena St. Andrew's Catholic Church, which was built in 1927.