8 Incredible Southern California Day Trips You Can Take By Train
Who doesn't love a train ride? There's something so precious about sitting back and relaxing and watching the landscape roll by from your window seat. If you love the idea of Southern California day trips you can take by train, then you'll want to take a look at these eight rides that will bring out the adventurer in you.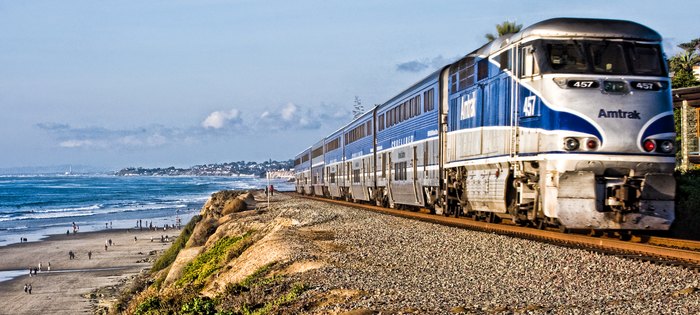 Oh, how nice to spend a leisurely day on the train. What do you think of this list of Southern California day trips you can take by train? Have you ever had a chance to take a ride on any of these routes?
For some more towns to visit in SoCal that are not along the train route, take a look at these 12 places that are delightful to visit just as long as you have a car.
Address: 209 State St, Santa Barbara, CA 93101, USA
Address: 615 Avenida Victoria, San Clemente, CA 92672, USA
Address: 1011 Railroad Ave, San Luis Obispo, CA 93401, USA
Address: Pacific Surfliner (Amtrak), Santa Fe Depot, San Diego, CA 92101, USA
Address: Pacific Southwest Railway Museum, 750 Depot St, Campo, CA 91906, USA
Address: 810 Mission Ave, Oceanside, CA 92054, USA
Address: 351 Santa Clara St, Fillmore, CA 93015, USA
Southern California Day Trips You Can Take By Train
April 23, 2021
What day trips can I take in Southern California?
Exploring our own backyard and surrounding areas always makes a great day trip. The seaside city of Oxnard, located in Ventura County, is packed with gorgeous beaches and plenty of activities to make your day fun. Stroll through Heritage Square and marvel at the Victorian architecture before heading to the beach. And then visit one of the museums like the Mullin Automotive Museum or Channel Islands Maritime Museum. Time here in Oxnard is time well spent! If you love wine, then head to Los Olivos in the Santa Ynez Valley, home to numerous vineyards and tasting rooms. Explore the historic town with all of its boutiques and galleries, take a horseback or bike tour, and, of course, enjoy a glass of wine at one of the local vineyards.
What are some of the best attractions in Southern California?
The best-known attraction in Southern California is Disneyland, followed by the likes of Universal Studios, Sea World, and other theme parks. The world-famous Griffith Observatory in Los Angeles is another top attraction where you can learn about astronomy and see panoramic views of the city. It's a breathtaking spot! You can hike to the observatory as well, so read this post for more information about the trail. Aside from well-known attractions, there are several that are a little more on the quirky side. For example, the Cabazon Dinosaurs, visible from the I-10 on the way to or from Palm Springs, is worth a photo stop. These towering dinosaurs will certainly put a smile on your face! And then there's Salvation Mountain in Imperial County is an outdoor folk art installation that you need to see in person to believe it exists! Learn about these and more in our post These 8 Roadside Attractions In Southern California Will Make You Do A Double Take.
What are some of the best adventures to take in Southern California?
If you enjoy the great outdoors, Southern California is the place to be. With good weather year-round, outdoor adventures are limitless. From swimming or surfing at one of the numerous pristine beaches to a trip to the mountains of Mammoth or Big Bear to go skiing or snowboarding, adventure awaits wherever you go!
Address: 209 State St, Santa Barbara, CA 93101, USA
Address: 615 Avenida Victoria, San Clemente, CA 92672, USA
Address: 1011 Railroad Ave, San Luis Obispo, CA 93401, USA
Address: Pacific Surfliner (Amtrak), Santa Fe Depot, San Diego, CA 92101, USA
Address: Pacific Southwest Railway Museum, 750 Depot St, Campo, CA 91906, USA
Address: 810 Mission Ave, Oceanside, CA 92054, USA
Address: 351 Santa Clara St, Fillmore, CA 93015, USA