15 Gorgeous State Parks In South Carolina That Will Knock Your Socks Off
State parks are the most overlooked source of fun in South Carolina and that fact absolutely amazes me considering that most of them are free or very low cost to enter. Not only are they budget friendly, a lot of them have hands-on facilities or learning facilities as well as recreational areas such that you find at Lynches River State Park in Florence, SC, which has a treetop or canopy walk. With so much beauty in the Palmetto State and right at your fingertips, there is no reason why you shouldn't pack up the family, pack up a lunch, and pack them all the in the car for a day or even a weekend of fun! Here are the best state parks in South Carolina to do exactly that: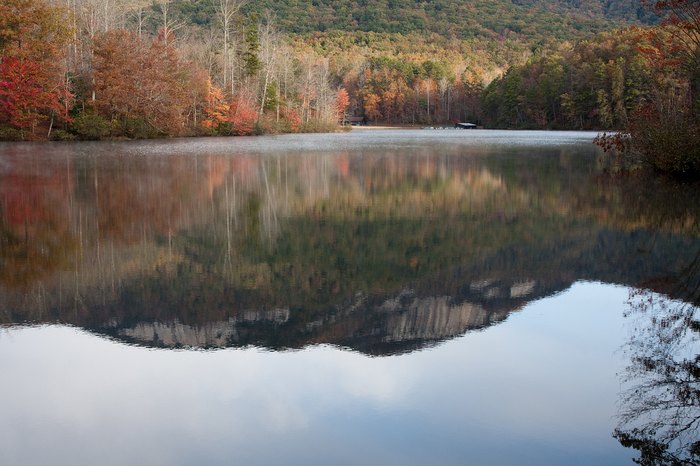 All told there are 30 state parks, 15 state historic sites, 1 state resort park, and 1 state recreational area covering approximately 80,000 acres of our state and all of it is available for you to enjoy. All they ask is that you leave it as you found it. Make your footprints soft ones at the best state parks in South Carolina.
Address: Table Rock State Park, 158 E Ellison Ln, Pickens, SC 29671, USA
Address: Caesars Head State Park Visitor Center, 8155 Geer Hwy, Cleveland, SC 29635, USA
Address: Hunting Island State Park, 2555 Sea Island Pkwy, St Helena Island, SC 29920, USA
Address: Lynches River County Park, 5094 County Park Rd, Coward, SC 29530, USA
Address: Sesquicentennial State Park, 9564 Two Notch Rd, Columbia, SC 29223, USA
Address: Paris Mountain State Park, 2401 State Park Rd, Greenville, SC 29609, USA
Address: Andrew Jackson State Park, 196 Andrew Jackson Park Rd, Lancaster, SC 29720, USA
Address: Battle of Musgrove Mill State Historic Site, 398 State Park Rd, Clinton, SC 29325, USA
Address: Huntington Beach State Park, 16148 Ocean Hwy, Murrells Inlet, SC 29576, USA
Address: Kings Mountain State Park, 1277 Park Rd, Blacksburg, SC 29702, USA
Address: Jones Gap State Park, 303 Jones Gap Rd, Marietta, SC 29661, USA
Address: Poinsett State Park, 6660 Poinsett Park Rd, Wedgefield, SC 29168, USA
Address: 19138 SC-11, Fair Play, SC 29643, USA
Address: Landsford Canal State Park, 2051 Park Dr, Catawba, SC 29704, USA
Address: Charles Towne Landing State Historic Site, 1500 Old Towne Rd, Charleston, SC 29407, USA
Best State Parks In South Carolina
May 30, 2020
What are the best outdoor adventures in South Carolina?
Let out your inner explorer in one of the prettiest states in the country. South Carolina is full of beautiful spots to visit and have an adventure. Spots like the Rainbow Falls near Marietta are absolutely enchanting. The falls are 100-feet tall and surrounded by gorgeous landscapes, with incredible hikes to experience it all. Congaree National Park, the only national park in South Carolina, is a fantastic place to explore by boat. The trees you can kayak or canoe through are some of the oldest in the world, making this spot really unique and memorable to visit.
What are the most beautiful hikes in South Carolina?
You can take on some of the best hiking trails in South Carolina for yourself to see just how beautiful the state is. The Table Rock Trail is a must because of the jaw-dropping view you'll be rewarded with at the end. If you love the natural beauty of waterfalls, then the King Creek Falls Trail near Mountain Rest is for you. It's a relatively short hike but absolutely stunning. The falls are 70-feet tall and you'll definitely want to bring your camera to snap a few pics of it. Walk the quiet trails of Congaree National Park for a stellar experience. The ancient trees of the park can be explored on lovely boardwalks.
What is the most popular park in South Carolina?
With all the most beautiful parks in South Carolina, there is one that people love more than anything. The most popular park is Hunting Island State Park, which is not only the most visited in South Carolina but one of the top most popular parks in the entire United States. Well over 1 million visitors go there annually. The barrier island has incredible sights that you can enjoy from the trails or campsites. Take in the view of the lighthouse and pristine, natural island habitat. Once you've seen it for yourself, it's no wonder why Hunting Island State Park is so incredibly popular.
Address: Table Rock State Park, 158 E Ellison Ln, Pickens, SC 29671, USA
Address: Caesars Head State Park Visitor Center, 8155 Geer Hwy, Cleveland, SC 29635, USA
Address: Hunting Island State Park, 2555 Sea Island Pkwy, St Helena Island, SC 29920, USA
Address: Lynches River County Park, 5094 County Park Rd, Coward, SC 29530, USA
Address: Sesquicentennial State Park, 9564 Two Notch Rd, Columbia, SC 29223, USA
Address: Paris Mountain State Park, 2401 State Park Rd, Greenville, SC 29609, USA
Address: Andrew Jackson State Park, 196 Andrew Jackson Park Rd, Lancaster, SC 29720, USA
Address: Battle of Musgrove Mill State Historic Site, 398 State Park Rd, Clinton, SC 29325, USA
Address: Huntington Beach State Park, 16148 Ocean Hwy, Murrells Inlet, SC 29576, USA
Address: Kings Mountain State Park, 1277 Park Rd, Blacksburg, SC 29702, USA
Address: Jones Gap State Park, 303 Jones Gap Rd, Marietta, SC 29661, USA
Address: Poinsett State Park, 6660 Poinsett Park Rd, Wedgefield, SC 29168, USA
Address: 19138 SC-11, Fair Play, SC 29643, USA
Address: Landsford Canal State Park, 2051 Park Dr, Catawba, SC 29704, USA
Address: Charles Towne Landing State Historic Site, 1500 Old Towne Rd, Charleston, SC 29407, USA