This Rhode Island Mansion Is Among The Most Haunted Places In The Nation
Seaview Terrace in Newport is a marvel for its sheer size and scale. It also holds many fascinating stories and is said to be the home of several ghosts and spirits. Let's take a closer look at one of the most haunted places in Rhode Island.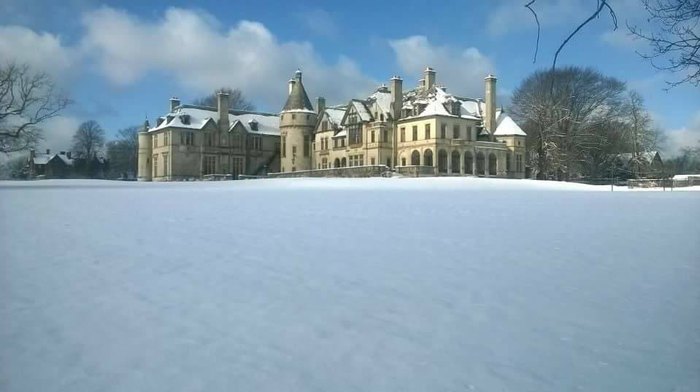 Carey Mansion, aka Seaview Terrace, is not only the largest residence in Rhode Island but also one of the most haunted places in the state. But since it is private property, please do not disturb or trespass. As you pass by on Ruggles Avenue and catch a glimpse, you have to wonder about the mysteries that lie inside. Although Seaview Terrace has its hauntings, it's still considered to be an architectural masterpiece and to many still, a hidden gem in Rhode Island.
Looking for more spine-tingling scares? Find more spooky spots in Newport here, or check out the sinister story behind this Rhode Island state park.
OnlyInYourState may earn compensation through affiliate links in this article.
Address: 207 Ruggles Ave, Newport, RI 02840, USA
Most Haunted Places In Rhode Island
November 01, 2021
What are some of the most haunted houses in Rhode Island?
Located in the town of Burrillville, you can find the state's most haunted house. It's so haunted that it was the main focus in the movie The Conjuring. The house was built in 1736 and a woman named Bathsheba, who was thought to be practicing witchcraft, moved into the house in 1844. She eventually hung herself in 1885. In 1970, the Perron family moved in but almost as soon as they got settled, the strangest things happened. Objects would move on their own, they would see apparitions, and other frightful things would occur. They brought in paranormal investigators who discovered Bathsheba during their investigation. Scary!
What are some of the creepiest places in Rhode Island?
With all the old, historic places in the Ocean State, there are certainly some very haunted, very creepy locations. In our post, These 15 Terrifying Places In Rhode Island Will Keep You Awake At Night, you'll read about creepy places like Fort Wetherill in Jamestown, Mercy Brown's Grave in Exeter's Chestnut Hill Cemetery, Slater Mill in Pawtucket, and a whole lot more! If you're interested in the paranormal, this article is for you.
Are there any haunted roads in Rhode Island?
Yes, there are haunted roads in the Ocean State. One of the most haunted is Tower Hill Road in Cumberland. It probably doesn't help that there's an old monastery and public library that have their own hauntings along the road though. People have seen anything from phantom children to lights with no source, among several other strange anomalies.