A Hidden Pennsylvania Deli, Wanamakers General Store Makes Some Of The Best Sandwiches Around
Memories of yesteryear whisper throughout Pennsylvania. The enchanting small towns, where everyone knows everyone else, give us a glimpse into life during a simpler time. For an experience that will make you feel as though you've turned back time, visit this charming general store. Tucked inside an old-fashioned shop are some of the most delicious sandwiches around. Everyone should experience this hidden deli in Pennsylvania at least once.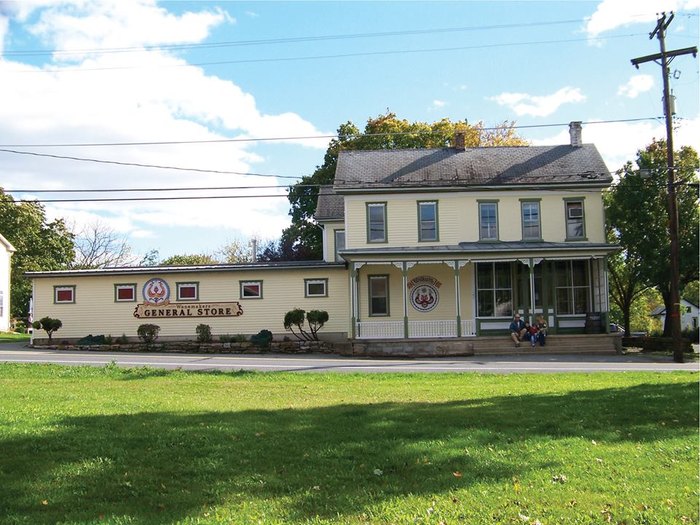 Address
Wanamakers General Store
8888 Kings Highway
Kempton, PA 19529
610-756-6609
Click here for more information.
Have you ever been to this hidden deli in Pennsylvania? Who do you think makes the best sandwiches? Share your thoughts with us in the comments below! And if you know another incredible Pennsylvania eatery, nominate it for a chance to be featured.
Still hungry? This famous deli makes some of the tallest, most delicious sandwiches in Pennsylvania.
Address: Wanamakers General Store, 8888 Kings Hwy, Kempton, PA 19529, USA
hidden deli in Pennsylvania
July 12, 2020
What are the best delis in Pennsylvania?
Who doesn't love a good sandwich? With so many excellent delis in Pennsylvania, it can be difficult to know which one to visit first. We always recommend hungry people visit Famous 4th Street Delicatessen in Philadelphia. Their sandwiches are absolutely massive. Of course, it's not just their impressive sandwiches that catch our attention. They also serve scrumptious french fries and wonderful cakes. Come hungry! It's hard to say no to all of these delicious eats.
What are the best general stores in Pennsylvania?
Wanamakers General Store in Pennsylvania isn't the only place you can shop for a variety of goods. For more nostalgic fun, visit Lisa's General Store in Greenville. This exciting shop has a little bit of everything. You could spend hours perusing the selection of antiques, furniture, and unique knick knacks. It's almost impossible to come home empty handed! If you loved this place, you should also check out Lumberville General Store. As the the oldest general store in Pennsylvania, it's full of rich history and incredible treasures. But it's not just a place to purchase locally-made treats. Lumberville General Store is also a restaurant known for its mouthwatering comfort food. You'll love visiting this famous destination in Pennsylvania.
Where can I find the best sandwiches in Pennsylvania?
If you're hungry for a wonderful fish sandwich, head to My Brother's Place in Mercer. They don't scrimp on the good stuff! Each sandwich is full of fresh and crispy fish — the filet almost falls off the plate! Bring your appetite and chow down. You won't regret it. If you loved this scrumptious meal, you should also try the fish sandwich from Wholey's Fish Market in Pittsburgh. These mega meals weigh a whopping one pound! Even though you'll inevitably get full, this dish is impossible to put down.
Address: Wanamakers General Store, 8888 Kings Hwy, Kempton, PA 19529, USA