The Best Times And Places To View Fall Foliage In Pennsylvania
Carve out time this autumn to embrace the sheer beauty of the fall foliage that crisscrosses Pennsylvania. The timing of the changing of the leaves will depend on where in the state you live. Fortunately, several organizations, such as Smoky Mountains.com, issue annual fall foliage predictions so you know when to see fall colors in Pennsylvania and to better plan your fall activities. Check out this awesome Pennsylvania fall colors map for more info: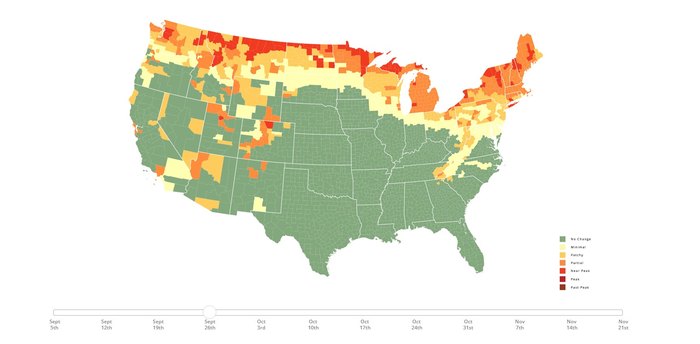 Now that you know when you see fall colors in Pennsylvania, you just have to decide where you're going to check them out. Want to get some really unforgettable views of the fall colors in Pennsylvania? Hit the road on this spectacular autumn road trip in Pennsylvania.
OnlyInYourState may earn compensation through affiliate links in this article.
Pennsylvania Fall Colors Map
October 09, 2022
Where can I find the best fall colors in Pennsylvania?  
Pennsylvania is a lush, green place for most of the year, and you know what that means: the fall colors in PA are absolutely ridiculous! The trees, bushes, and seemingly everything else takes on amazing hues of crimson, gold, and orange, and if you're anything like us, you'll never be able to get enough of the fall foliage in PA. Some of our favorite spots for leaf-peeping in Pennsylvania include places like the gorgeous Allegheny National Forest. Do one of the best scenic fall drives in PA in this forest: the Longhouse National Scenic Byway. Alternatively, head to one of Pennsylvania's many amazing state parks for some of the best fall colors you'll ever see.  
What is fall in Pennsylvania like?  
Fall in PA is absolutely magical! Gone is the swelter of summer humidity, replaced by drier, cooler days, a light breeze, and nights that get just a little longer with every passing day. From October to November, the entire state is cloaked in brilliant color, and there are countless fun things to do in PA in the fall. Some of our favorite things to do include some of the best pumpkin patches in PA, corn mazes in PA, and so much more! Typically, temperatures in PA in the fall drop rapidly, from an average high of 82 degrees to an average high of just 50 degrees! Sweater weather, anyone? It's fall, y'all!  
What are some wonderful autumn hikes in PA I can do? 
There are lots of wonderful places to go hiking in Pennsylvania, and we love 'em all. We think every trail in PA deserves a spot on your bucket list, especially in the fall, when the colors are absolutely out of this world. Some of our favorite fall hikes in PA we love to do include the Falls Trail at Ricketts Glen State Park. It's not just an amazing waterfall hike, it's also surrounded by some of the most amazing foliage in the state. We also love Golden Eagle Trail, within the southern half of the Pennsylvania Grand Canyon, and the Longfellow Trail in Cook Forest State Park is a trek you won't soon forget!  
OnlyInYourState may earn compensation through affiliate links in this article.