The Sapphire Creek In Oklahoma That's Devastatingly Gorgeous
It isn't the easiest task to find clear, blue water in Oklahoma, but there's one hidden gem beaming with beautiful sapphire-colored water in southern Oklahoma that's worth a visit. Travertine Creek in the Chickasaw National Recreation Area in Sulphur is a gorgeous creek that runs through stunning scenery in this national park. The creek is not only beautiful but is a perfect spot to cool off in summer, as it maintains an average of 65 degrees year-round. This sapphire creek in Oklahoma is going to make your spring and summertime adventures one for the books, that's for sure. Let's check it out.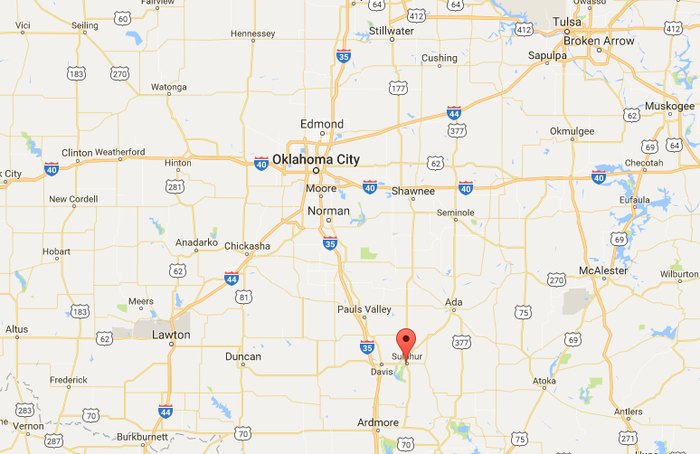 Wow…Travertine Creek is gorgeous! Summer is right around the corner and you'll be looking for places to cool down in the hot weather. Check out these other popular swimming holes in the Sooner State.
Address: 901 West 1st Street, Sulphur, OK 73086
OnlyInYourState may earn compensation through affiliate links in this article.
sapphire creek in Oklahoma
March 01, 2021
Does Oklahoma have any natural wonders?
The Sooner State has an impressive variety of natural beauty ranging from rolling green Rocky Mountain foothills to lush cypress swamplands giving outdoor lovers an abundance of destinations to explore. In Davis, the marvel at the crystalline waters of Turner Falls nestled in the Arbuckle Mountains. At a height of 77 feet, this wonder is known as Oklahoma's tallest waterfall. One of the most unusual parks in Oklahoma is the Great Salt Plains State Park, the only place in the world you can find hourglass crystals. This pre-historic site was once under the sea and the remnants of which comprise the park's salty surface. In Fairview, the sparkling slopes of the Gloss Mountains are famous for their glittery appearance in the sunlight caused by the Selenite mineral content which makes for an unforgettable hike.
What are the best local attractions in Oklahoma?
Whether you're exploring Oklahoma's diverse urban landscapes or relaxed rural regions, interesting local attractions can be found all across our state. On S. Boston Avenue in Tulsa, it's easy to miss the "The Center of the Universe", a strange acoustic phenomenon located in the center of a brick circle. When you stand in the middle of the circle make a noise, you'll hear a much louder amplified echo. Pauls Valley is home to the only museum in the world dedicated to action figures, The Toy and Action Figure Museum. Displays include over 13,000 action figures, cartoon artwork, and rare collectibles. The Philbrook Museum of Art is located in one of the most architecturally exquisite buildings in Tulsa. This 72 room Italian Renaissance-style mansion was renovated to house the gallery and boasts an impressive collection of contemporary and historic art.
What are the best outdoor activities in Oklahoma?
From adrenaline-pumping zip-lines to tranquil nature trails, Oklahoma has something for everyone. Get your blood pumping in Broken Bow at Rugaru Adventures Ziplining Tours where guides take you on an adventure 60 feet above the woodland floor at speeds up to 35mph. The Wichita Mountains Wildlife Refuge offers an abundance of outdoor recreation and exploring the 2.4 mile Charon's Garden Trail is a must. Wander through the fascinating geography hopping across boulders and through stunning gorges. A favorite spot for spelunkers is Alabaster Caverns State Park in Freedom, the largest public gypsum cave in the world. As you explore, you'll be delighted by the gorgeous light displays washing the cave walls in brilliant colors.
Address: 901 West 1st Street, Sulphur, OK 73086
OnlyInYourState may earn compensation through affiliate links in this article.