Most People Have No Idea You Can Take A Safari Right Here In Ohio
Did you know that you can take a safari in Ohio and see giraffes, rhinos, big cats and more? Although Ohio is full of several impressive zoos, The Wilds in Cumberland offer a truly unique way to observe some of the most exotic animals on the planet. Depending on the tour option you choose, you can get an up-close encounter with the animals or board a Safari Transport so you can observe these magical creatures (from a safe distance) as they roam freely, all while learning about the rare and endangered species the facility conserves. Let's go on a safari in Ohio, shall we?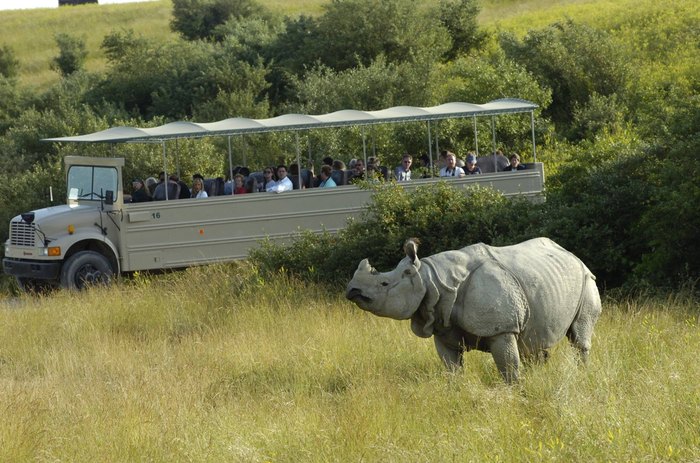 Did you know there was a safari right here in Ohio? The Buckeye State really is full of places that will surprise you! Visit The Wilds website to learn more and reserve tickets for an upcoming safari!
For another epic safari adventure in The Buckeye State, be sure to check out this drive-thru safari park near Cleveland.
Address: The Wilds Columbus Zoo, 14000 International Rd, Cumberland, OH 43732, USA
OnlyInYourState may earn compensation through affiliate links in this article.
Safari in Ohio
May 24, 2021
Is The Wilds the only safari in Ohio?
The Wilds is actually not the only safari in Ohio, if you can believe it! (Who would have thought The Buckeye State had its own safaris?!) If it's the African safari you're looking for, you'll find it right here… in Ohio! Located just about an hour outside of Cleveland is a safari park that will take you straight to the plains of Africa, and you will be amazed by what kind of creatures await your visit. African Safari Wildlife Park will make you feel like you're on an entirely different continent. During your drive-through visit, you'll get closer than ever with magnificent creatures like giraffes, bison, zebra, and more. If the drive-through portion of your visit leaves you longing for more, you'll be pleased to know that the park also features a walk-through safari, too! This really is one of the coolest day trips in Ohio.
What are some of the best zoos to visit in Ohio?
Here in Ohio, it can be difficult to choose which one of our amazing zoos is the absolute best; but fortunately for us, we don't have to. Recently, USA Today ranked the 10 best zoos in America and Ohio's very own Cincinnati Zoo and Botanical Garden came in at the number 2 spot! From its wide variety of animals (#TeamFiona, we love you!) and fascinating history to its special events and colorful holiday displays, it's no wonder The Buckeye State's beloved zoo earned such a high spot on the list. For those living near the state capitol, the Columbus Zoo and Aquarium is a popular and beloved day trip destination that's won countless awards and accolades. The zoo is famous for its immersive exhibits, including the new Adventure Cove that puts visitors face-to-face with polar bears!
Where can I go to have some unique animal encounters in Ohio?
Safari Junction in Eaton is the home of Valley Exotics Zoo, where you'll have the best animal encounters in Ohio. From camels and kangaroos to exotic birds and lemurs, you never know what sort of animals you'll encounter at this unique Ohio attraction! At Safari Junction's Valley Exotics Zoo, guests have the opportunity to come face-to-face with kangaroos, camels, foxes, lemurs and other furry friends! You'll get a rare up-close and hands-on experience that larger zoos simply aren't able to offer. At the Cincinnati Zoo, Giraffe Ridge is an amazing overlook where you can get a great view of these tall giants, and it's also where you can feed them yourself. It only costs a few dollars for two leaves, and you'll get a once-in-a-lifetime chance to be within inches of these beautiful animals.
Address: The Wilds Columbus Zoo, 14000 International Rd, Cumberland, OH 43732, USA
OnlyInYourState may earn compensation through affiliate links in this article.