This Natural Wonders Road Trip Will Show You Cleveland Like You've Never Seen It Before
Greater Cleveland is a lovely area, but that's thanks only in part to the creations of mankind. Our region is naturally stunning and features a small sampling of all of Mother Nature's finest art projects. Gorgeous and powerful waterfalls, lovely lakeside meadows, enchanting forests, and even a mountain – there are so many glorious natural wonders in Cleveland! No matter the season, it's endlessly worthwhile to embark on nature-fueled journeys, and this road trip through Greater Cleveland will leave you inspired to get out and explore.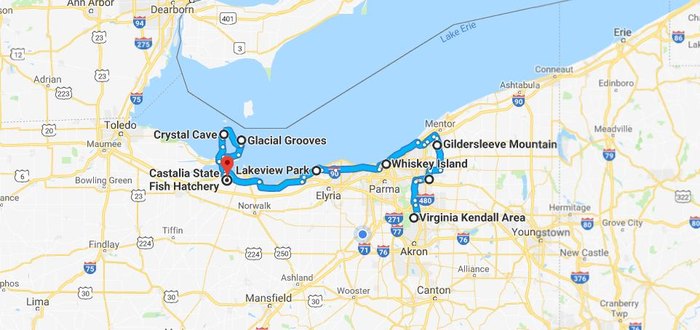 The landscape surrounding Greater Cleveland is truly a treat, and it's amazing to consider that such a wondrous place is our home. Which of these pretty places is your favorite? Let us know in the comments below and don't forget to share photos of your adventures throughout Northeast Ohio on Instagram using #only.in.cleveland for a chance to see your photos featured!
If you're a fan of adventure, you'll surely adore these frozen waterfalls near Cleveland.
OnlyInYourState may earn compensation through affiliate links in this article.
Natural Wonders in Cleveland
February 08, 2023
What are some other natural wonders in Cleveland for my bucket list?
Cleveland is a city of marvels. From its incredible architectural achievements to its natural elements, there's much to see and do here. Yet for nature lovers, Greater Cleveland and beyond is a gift like no other. Where else in the world can you climb cliffs, traverse sand dunes, and bask in the beauty of stunning waterfalls? Yes, believe it or not, these wonders and more exist in and near Greater Cleveland, and are just waiting to be explored, experienced, and admired... by you!
Headland Dunes State Nature Preserve. It may look like a desert landscape, but Headland Dunes State Nature Preserve is actually a hidden gem in Lake County. There are few sandy environments like this left in Ohio, and the landscape is home to critters and plants that can thrive in its extreme conditions.
Mill Creek Falls.  Mill Creek Falls

is a true urban oasis hiding in Cleveland, Ohio. This waterfall was made in collaboration with a railroad company and the might of Mother Nature. In the early 1900s, a railroad company diverted Mill Creek and created the stunning 48-foot waterfall you see today. As the tallest in Cuyahoga County, its beauty alone merits a visit. However, the surrounding park is one of the oldest in Cleveland, and it's filled to the brim with history and Works Progress Administration-era stonework.

Princess Ledges. Tucked away in Brunswick near the stunning Mapleside Farms

, Princess Ledges Nature Preserve is truly an unexpected feature in this suburban community. These impressive cliffs form the historic shore of Lake Erie... miles away from where its current shore rests. 

Princess Ledges

 is preserved to this day because its rocky landscape wasn't ideal for construction, so locals left it largely untouched. Today, the 46-acre preserve has a mile and a half of hiking combined with stunning views.

Brandywine Falls. One of the crown jewels of Cleveland (and Ohio!), Brandywine Falls

 is the tallest waterfall in Ohio and, boy, is it beautiful. At 65 feet in height, this waterfall is massive, but the boardwalk to approach it offers the perfect opportunity to grab a picture. As part of Cuyahoga Valley National Park, this is just one of many wonders in the area... but it's arguably the most photogenic feature in the entirety of Ohio's only national park.

Columbia Beach Falls. A beach waterfall... in Ohio? Yes! Columbia Beach Park has a tiny waterfall that's only about 20 feet in height, but it's located in a spot you have to see to believe. There's an overlook deck to help you view the waterfall from above, but it can also be admired directly from the beach. This waterfall is one of very few that spills directly into Lake Erie, and it's amazingly hidden in a tiny 1.5-acre park.