If You Didn't Know About These 7 Swimming Holes In Northern California, They're A Must Visit
Looking for a little cool relief from the summertime heat? Or, maybe you hunger for a fun way to make some epic memories. Either way, Northern California has you covered. We've included a few more swimming holes you need to add to that bucket list of yours. Check out the photos and even a few videos below. Call a couple of friends, load up on sunscreen, bring a few snacks, and then head to these best swimming holes in Northern California. Don't forget to take a few selfies once you get there. It's important to remind everyone what they're missing.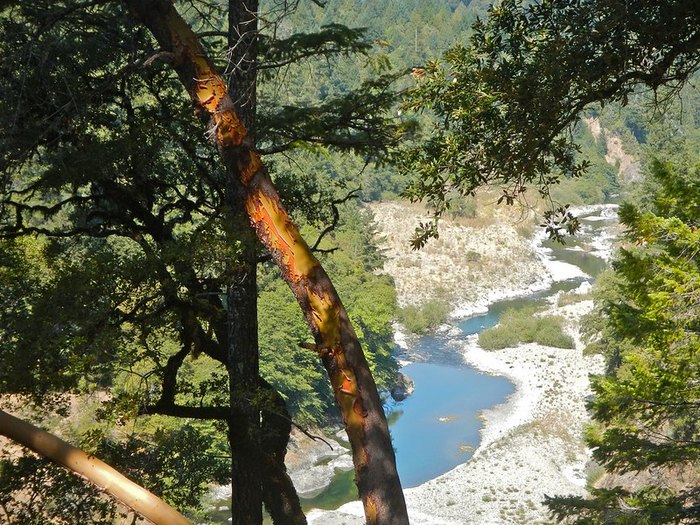 4. Oregon Creek Swimming Hole, Middle Fork Yuba River

What makes these natural swimming holes in Northern California so amazing is that they're easily accessed but not marked. This means way fewer folks to crowd out your summer fun. There are smooth granite slabs to throw out your towel or enjoy a few cannonballs from some jutted-out rocks. There are natural jacuzzis in this place to hang out awhile, or grab your cutie-pie and sit behind the waterfall.
Directions: Take I-80, exit Hwy. 49 NB to Nevada City. Go 16.3 miles up Hwy 49 past Nevada City. Cross the bridge over the Middle Yuba River—marked by a "Yuba County Line" sign—and the Oregon Creek day-use area. You're going to drive another mile past the sign and day-use spot and look for a small two-car pull-out on the east (right) side of Hwy 49 at the 1-mile marker sign. Park here and walk down the dirt path for just a couple of minutes. You have arrived!
6. Candy Rock, Calaveras County

Known by the locals, this is the place to be when the summer heat starts to drive you crazy. You'll find lots of flat rocks for sunbathing and shaded areas to get a little refuge from the sun. Lots of teenagers and young adults consider this Candy Rock swimming hole a favorite with 12-foot cliff jumps to practice on before heading to the big boy, Candy Rock!
Directions: Located in the Stanislaus National Forest, Candy Rock is at the end of an old dirt road, just north of the town of Murphys. According to one hiker, "After turning down the three miles of potholes and gravel known as Candy Rock Road, you arrive at a roundabout where you park anywhere. Then .25 miles of stairs lead you to the first swimming hole."
7. Blue Streak, Calaveras County

This swimming hole is even more obscure than Candy Rock swimming hole, but apparently, they're neighbors. It gets its name from a giant blue streak of granite that seems to be nature's way of marking the spot. I had a tougher time finding good directions for this big boy, so make sure to read the comments for that kind person to share the best way to get there. P.S. There is a swimming hole in El Dorado County with the same name. Don't confuse the two.
Directions: Up past Murphys and Angels Camp, about two hours Southeast of Sacramento, according to one YouTuber. Looks like they really want to keep this one secret. If you know where Candy Rock is then you can find Blue Streak. It's about one mile downstream from Candy Rock.
Having a tough time choosing where to go? I'm about to make it even harder. Here are more of the best swimming holes in Northern California that are just waiting on you to show up and have a little summer fun. Nobody said this would be easy.
OnlyInYourState may earn compensation through affiliate links in this article.
Best Swimming Holes in Northern California
May 24, 2022
Are there any secret swimming holes in Northern California?

There are probably many tightly held secrets about swimming holes in Northern California. The one thing people love is to have a swimming hole all to themselves. The swimming holes at Natural Bridges in Calaveras County might not be a secret, but you'll feel like you are venturing into the unknown when you visit. These are some of the best swimming holes in Northern California. Coyote Creek flows through spectacular limestone caverns creating these mysterious cool pools. As you move deeper into the cavern, the water gets darker and deeper, which creates an eerie feeling. You might want to bring a headlight and lifejacket just to be on the safe side.
Are there any natural waterslides in Northern California?

Nothing beats the heat like a natural waterslide and swimming hole! Rainbow Pool is one of the best waterfall-fed natural swimming holes in Northern California. Near Groveland, this idyllic spot has it all a waterfall, waterslide, and swimming hole. The slide is made of smooth rocks that deposit you into the picturesque swimming hole with a splash. So bring a picnic and spend the day enjoying this natural beauty!
Are there any short and sweet trails that lead to a swimming hole in Northern California?

Yes! Hoyt's Trail is only about a mile long and leads you right to Lemke's Lagoon. This refreshing pool is created from a smooth bowl of granite. Step carefully as you approach the lagoon; the surrounding boulders can be slippery. Due to the privacy of this lagoon, it is one of the Northern California swimming holes where you might come across some skinny dipping, so be forewarned.