188,000 People Ordered To Evacuate Near California's Lake Oroville After Dam Spillway Failure
A major catastrophe in Northern California appears to be imminent as the Oroville Dam located just east of the City of Oroville, California has breached the auxiliary spillway, sending rivers of water over the side of the tallest dam in the United States.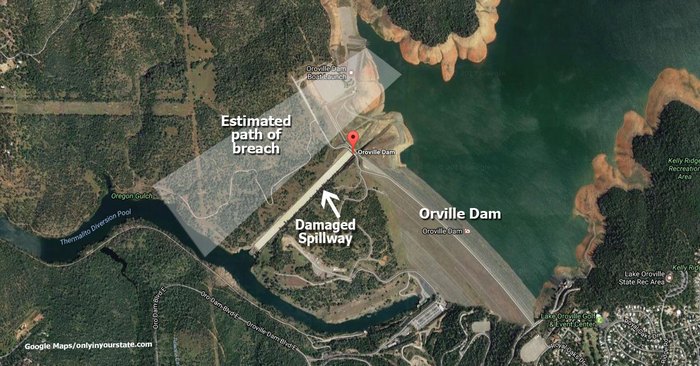 Efforts are being made to minimize the damage. Just moments ago, Reuters reported on Twitter that helicopters were being dispatched with giant loads of rock to drop on the auxiliary spillway breach.
According to the Oroville Dam's Wikipedia page, the main spillway developed a "crater" six days ago. Due to high amounts of water pouring into Lake Oroville operators were forced to continue to use the damaged spillway. By the 10th of February the hole in the spillway had grown to 300-feet wide and 500-feet long. On Sunday, operators decided to use the auxiliary spillway. It was the first time it had ever been used. It's that spillway that is currently failing.
Evacuations were issued beginning Sunday afternoon. Sources report that approximately 35,000 people from Butte County were evacuated. Additionally, 65,000 from Yuba County, 76,000 from Yuba City and 12,000 from Marysville City evacuated. Some evacuees spent four-to-six hours in their car in bumper-to-bumper traffic, fleeing with as many of their belongings as they could save in lieu of the short time they had to prepare.
What's the worst case scenario if things are not at least partially contained? Authorities predict a giant wall of water at least thirty-feet high will sweep through the Feather River Basin.
California's Governor Jerry Brown has declared a state of emergency.
OnlyInYourState may earn compensation through affiliate links in this article.