This Open Air Train Ride At Yosemite Mountain Sugar Pine Railroad In Northern California Is A Scenic Adventure
Train rides are the perfect way to explore Northern California's beautiful landscapes. Not only do they allow you to cover a lot of ground in a short amount of time but they are also just a ton of fun. No matter how old or young you may be, it's impossible not to have a smile on your face while chugging along the railroad tracks! Anyone searching for the best train rides near me in Northern California need not look any further. The open-air train ride at Yosemite Mountain Sugar Pine Railroad is an especially charming experience and it's one you'll want to be sure to check off your list. This train ride is a scenic adventure your whole family will love from beginning to end.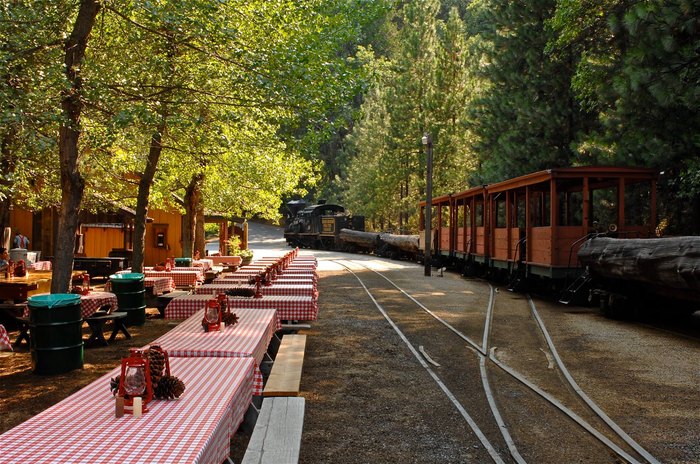 Talk about one of the best day trips in Northern California you can have! Have you experienced the open-air train ride at Sugar Pine Railroad before? Tell us how it went in the comments! Check out this list of The 11 Most Scenic Train Rides In Northern California for more stellar adventures.
OnlyInYourState may earn compensation through affiliate links in this article.
Address: Yosemite Mountain Sugar Pine Railroad, 56001 CA-41, Fish Camp, CA 93623, USA
Train Rides Near Me In Northern California
October 05, 2021
What are the best outdoor activities in Northern California?
Many of the best trips in Northern California involve some sort of outdoor activity. Because NorCal is bursting with outdoor attractions and natural beauty, it's only right that many people fill up their calendars with adventures in nature. If you want to create a bucket list of sorts, we recommend checking out these 10 outdoor attractions for anyone in Northern California. Picture hiking the half-dome, exploring Fern Canyon, and white water rafting the American River.
What are the best day trips in Northern California?
Day trips in Northern California can be as versatile as you allow them to be. There are so many hidden pockets of nature, unique slices of history, and overall enjoyable attractions, it might seem like you'll never finish visiting it all. But if you want to start planning for some unique day trips in NorCal, we recommend starting here - The 12 Very Best Day Trips You Can Possibly Take In Northern California. You'll be exploring peaks, mountains, beaches, and more in no time.
Can I go for another train ride in Northern California?
Besides the Yosemite Mountain Sugar Pine Railroad, are there other train excursions in Northern California that you want to learn more about? In short, yes, there are quite a few different train excursions in NorCal that vary in the ride and the activities on board. For instance, the Sierra Railroad Dinner Train offers themed dinners that feature live music and local breweries. Meanwhile, the Napa Valley Wine Train lets you travel through scenic Napa Valley as you sip delicious glasses of wine. You can also climb aboard the world-famous Skunk Train in Willits, California, which has run through the beautiful redwood forests since 1885.