The Sweetest Road Trip In North Dakota Takes You To 4 Old School Chocolate Shops
Have a major sweet tooth going on? Put it to the test by taking this sweet road trip to North Dakota's best and most well known chocolate shops and candy stores. This drive will take you to places with gourmet handcrafted chocolate, candy, fudge, and much more. Plus, you'll be visiting the capital city, a charming small town, and the two biggest metropolitan areas of the state. Get ready for a sugary sweet drive and let's hit the road to visit four North Dakota chocolate shops!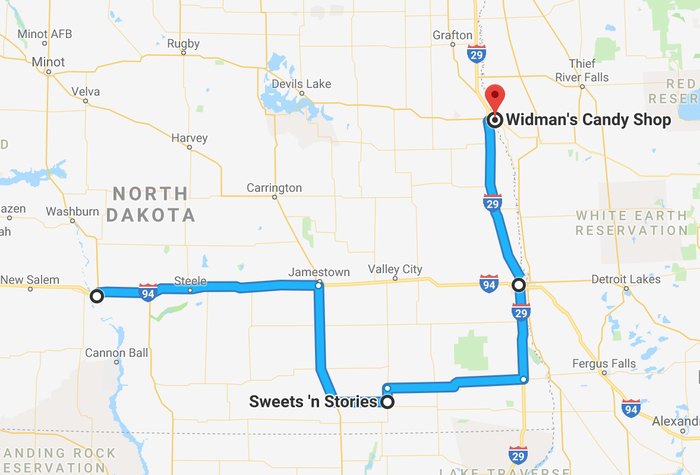 After this road trip you'll probably feel sick from the pure sugariness of it! But it's well worth the miles just to experience them all. If chocolates and candy aren't quite your thing but you love sweet treats, why not try these yummy places to get pie in North Dakota?
OnlyInYourState may earn compensation through affiliate links in this article.
North Dakota Chocolate Shops
February 09, 2023
What are the best chocolate shops in North Dakota?
Do you have an insatiable sweet tooth? Between the best chocolate shops, chocolates, candy shops, pie shops, and bakeries in North Dakota, your sweet tooth has met its match! Here are some of the best places for candies, confections, and chocolates in ND:
Hunter Cafe & Bakery, Hunter. Looking for the best pie in ND? You've got to believe us when we say this is seriously the best pie in the area - maybe even the best pie in North Dakota! Can't-miss selections include strawberry rhubarb pie, lemon meringue pie, pumpkin pie, and so many more. Delish!
Four Corners Cafe - Fairfield. This charming Ukrainian cafe in Fairfield, North Dakota makes the most delicious, fresh homemade pies. Stop in for a meal of the regional foods you love and get a slice for dessert - you won't regret it!
Dakota Drug Store - Stanley. If you've yet to indulge in the ND delicacy known as the Whirl-A-Whip, head to Stanley! It's here where you'll find Dakota Drug Store, known for its original soda fountain and the only surviving Whirl-A-Whip machine still being used. So what is this unique North Dakota dessert? It's essentially a special type of ice cream with practically unlimited options on what you can mix in. You get to be the creator and choose what you want in it, which can range from the usual flavors and candy to mix in or go as far as bacon bits and dill pickles. Yep, you heard that right - you can mix those into your Whirla-Whip! Stop by and see what combinations you can make and you'll see why this place has been loved by locals for years.
Hot Cakes Cafe - Hankinson. This cute little cafe serves a whole menu of homemade items, but they're especially popular for their desserts. Some of their most popular and mouthwatering options are their pies and caramel or cinnamon rolls. How could you say no to a tray of those? You'll be ready to walk out with a dozen when you try one -- trust us on this one.
Tower Travel Center Cafe - Tower City. The name of this destination doesn't scream "amazing pie," but that's precisely what you'll find at Tower Travel Center Cafe! Everyone who stops by the Tower Travel Center Cafe can enjoy one of their tasty, homemade pies that are baked fresh daily and have become favorites of the locals.
Nichole's Fine Pastry - Fargo. Are you a chocoholic? Get ready for the ultimate chocolate nirvana! Not only does Nichole's Fine Pastry & Cafe boast a full cafe menu including salads and sandwiches, they have the most tastiest, sweetest desserts you'll ever try. One in particular is a North Dakota dessert icon: the decadent chocolate tower. Also known as a chocolate feuillantine cake, it'll melt in your mouth and it has the most amazing taste.