What Real Life Looks Like Inside The Snowiest City In North Dakota
It's no secret that North Dakota gets a little snowy in the wintertime. In fact, it gets so snowy that it has become a state stereotype. We've even had someone ask us if we live in igloos up here. Seriously. Dealing with snow is just a part of living here, but some out-of-staters would be shocked to see just how much snow we tend to get, on average. Using data taken over many decades, we can even tell them just how much snow we get – and it's a bunch. Average yearly snowfall across the state ranges from 25-40 inches depending on where you are, but the snowiest place of all gets on average over 50 inches of snow. Can you guess which place gets that much snow? It happens to be North Dakota's biggest city, and here's what it looks like: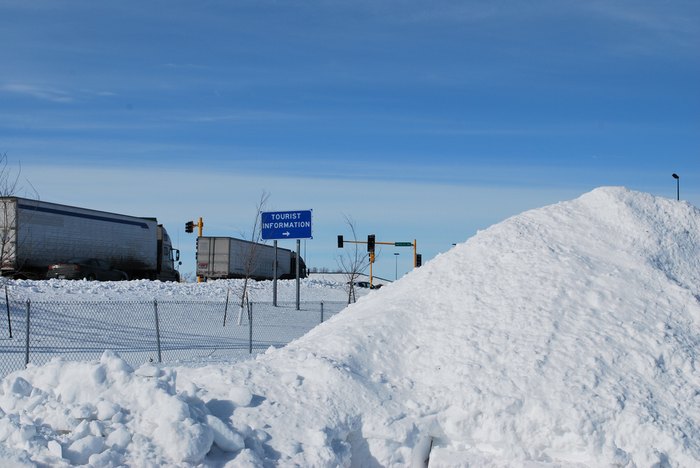 There are other North Dakota towns and cities that come pretty close to Fargo's current snowfall records. Bismarck is just behind Fargo at about 50 inches per year, and places like Jamestown, Grand Forks, Minot, and Bottineau all get more than 40 inches of snow on average. How snowy is it where you live? A lot of people can't wait for winter to be over when it's happening, but it does turn North Dakota's landscapes into beautiful snowy wonderlands for the prettiest pictures sometimes!
OnlyInYourState may earn compensation through affiliate links in this article.
More to Explore
Snowiest City In North Dakota
What is record snowfall in North Dakota? 
Let's be real here – it's cold in North Dakota! Like, seriously, sometimes winter can make us wonder why on earth we live here (and then our lovely, mild summers come and remind us of exactly why that is). Thus far, the record snowfall amount for North Dakota is an abysmal 33 inches of the white stuff in Bismarck in 1933, which made it the snowiest December (as well as simply the snowiest month) in recorded history. Fargo, North Dakota, is the town that receives the highest amount of snowfall, getting an average of 49.3 inches per year. Check out this article for some details and backstory on the epic blizzard of 1966. This terrifying storm occurred in March of that year and caused the deaths of multiple people; wind gusts of up to 100 miles per hour were reported in several areas and incredible snowdrifts of up to 20 feet high were created. It was one for the record books for sure!  
What is winter in North Dakota like?  
Winter in this region is frigid, windy, and snowy. Temperatures tend to stay below freezing during this time of year, and the cold is extreme enough that it can be deadly. Typically, January is the coldest months of the year. Amazingly, North Dakota typically sees more than 50 days per year where the temperature does not get any higher than zero degrees! Overall, North Dakota averages 39 inches of snow per year, though northernmost towns like Fargo see about ten inches more than that. North Dakota tops the list of the coldest states in the US, alongside the frigid temps of places like Alaska and Minnesota. Summer and autumn tend to be pleasant and mild around these parts, which, if you ask us, makes the difficult winters totally worth it!  
Related Articles
Featured Addresses