You Haven't Lived Until You've Experienced This One Incredible Scenic Drive In North Dakota
The perfect way to get out and see the beauty that is North Dakota can be as simple as going for a drive. One of the best scenic drives in North Dakota is a picturesque backway positively surrounded by natural splendor. It may be exactly what you need to get out, clear your mind, and just enjoy all that North Dakota has to offer. You need to put this drive on your to-do list!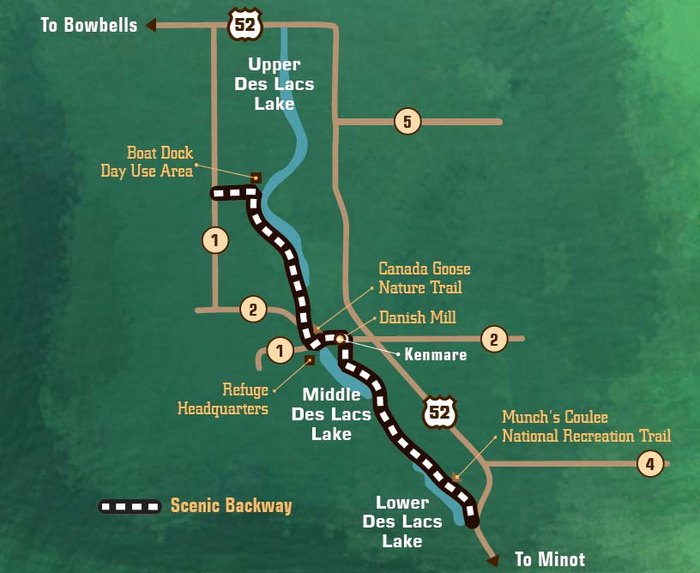 Find more information about this scenic backway here, and more information about the Des Lacs NRW here. Do you agree that the Des Lacs NRW is one of the best scenic drives in North Dakota? Be sure to share your thoughts with us in the comments below — we'd love to hear from you!
If you're interested in other scenic drives in North Dakota, why not try this great road trip that'll take you through some of the state's small towns?
OnlyInYourState may earn compensation through affiliate links in this article.
Address: Des Lacs, ND 58733, USA
best scenic drives in North Dakota
August 17, 2021
What are some other scenic places in North Dakota?
North Dakota is one of the most sparsely-populated states and yet it's positively brimming with natural beauty and natural wonders to explore. If you're a lucky resident of the state or you happen to be driving through, there are plenty of places that merit a place on your bucket list. One of our recommendations would be to venture to southwest North Dakota and experience the tallest point in the state. Known as White Butter, this landmark offers trails and beautiful, scenic overlooks that showcase the surrounding prairie. Plus, it's a great place to visit if you're really looking to get away from it all. The closest town has just 21 residents! Some other scenic places in North Dakota include Little Missouri National Grassland, Icelandic State Park, Coteau des Prairies Lodge, Sheyenne National Grassland, and Lostwood National Wildlife Refuge. Learn more about these off-the-beaten-path destinations in North Dakota.
What are the most beautiful hiking trails in North Dakota?
North Dakota is a hiker's paradise. There's simply no shortage of places where you can truly immerse yourself in stunning natural scenery. One of the most popular trails in North Dakota would be the Maah Daah Hey Trail. This network of trails crosses over some of the state's most stunning scenery and it's located in Theodore Roosevelt National Park not far from Medora. You can truly choose your own adventure here. Need some more inspiration? Other beautiful trails include the ones found in Icelandic State Park, Wind Canyon Trail, and the Petrified Forest Trail. Learn about some other beautiful hiking trails in North Dakota.