18 Best Hikes In North Dakota: The Top-Rated Hiking Trails To Visit In 2023
Are you ready to discover the beauty of North Dakota's hiking trails? Look no further than our top picks for the best hikes in North Dakota to explore in 2023. With stunning canyons and peaceful prairies, there's something for every outdoor lover to enjoy. Whether seeking breathtaking views, wildlife sightings, or a challenging hike, North Dakota's trails have it all. Grab your hiking boots and backpack and get ready for an unforgettable hiking adventure in the Peace Garden State.
Best Hikes in North Dakota
North Dakota may not be the first place that comes to mind when you think of hiking, but there are some great trails to explore in the state. Wind Canyon Trail, Caprock Coulee Loop, and Painted Canyon Nature Trail are all popular options. Each trail offers its own unique scenery and challenges, making them great options for hikers of all skill levels. Whether you're looking for a quick day hike or a more challenging excursion, North Dakota has something to offer.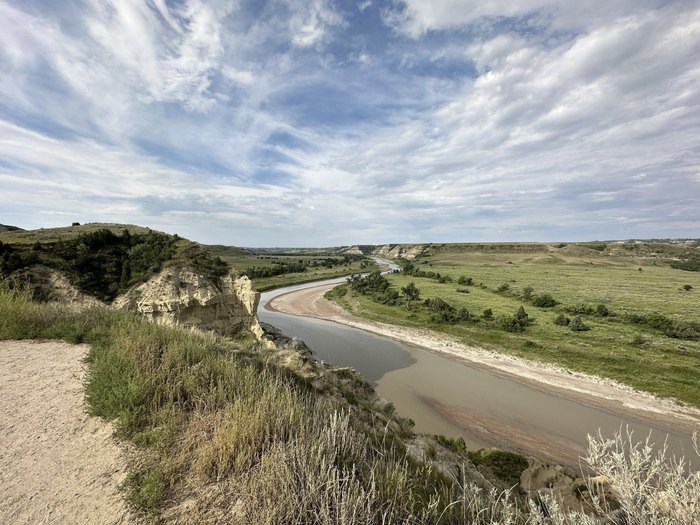 Best Short & Easy Hikes in North Dakota
North Dakota offers some great short and easy hikes for those who want to enjoy the outdoors without committing to a long trek. The Boicourt Overlook Trail, Coal Vein Trail, and White Butte North Dakota's Highpoint Trail, are a great start. These hikes offer beautiful views and are perfect for beginners or those looking for a quick getaway.
Hardest Hikes in North Dakota
We've heard that North Dakota has some pretty challenging hikes! One that often comes up is the Achenbach Trail, known for its steep inclines and rocky terrain. Another tough one is the North Achenbach and Buckhorn Trail Loop, which has some amazing views but can be quite strenuous. For the truly adventurous, the Bennett-Maah Daah Hey-Cottonwood Loop is a real challenge, with rugged terrain and unpredictable weather. And if you're looking for a real workout, the Achenbach and Bison Trail Loop is definitely worth considering.
Best Waterfront Hikes in North Dakota
Some of the best waterfront hikes in North Dakota include the Harmon Lake Trail, McDowellDam Loop, and Fort Stevenson Loop. These trails offer stunning views of lakes, rivers, and dams, and are perfect for nature lovers looking to get some exercise while enjoying the great outdoors.
Best Winter Hikes in North Dakota
North Dakota has some of the best winter hikes for nature enthusiasts. Long X to Maah Daah Hey Loop, Ma-ak-oti Trail, and Turtle River Nature Trail are some of the hidden gems. These trails are perfect for those looking to get some fresh air during the winter season.
Best Hikes near Bismarck
If you're looking for great hiking near Bismarck, there are a few trails that come to mind. The Fort Lincoln Loop Trail is a popular choice, offering scenic views of the Missouri River and a glimpse into North Dakota's history. The Missouri Valley Millennium Legacy Trail is another option, spanning over 50 miles. For a shorter hike, the East Sibley Nature Path is a lovely trail through the woods, with plenty of opportunities to spot wildlife.
Have you had the chance to explore any of these North Dakota hiking trails? If so, do you think any stand out as the best for North Dakota hiking? We're excited to hear your thoughts on the best hiking trails in North Dakota!
Whether you're looking for a challenging hike with miles of trails or an easy trail with beautiful scenery, this hub has everything you'll need, and be sure to Try AllTrails+ For Free!
OnlyInYourState may earn compensation through affiliate links in this article. As an Amazon Associate, we earn from qualifying purchases.
More to Explore
The Best Hikes In North Dakota
Does North Dakota have good hiking trails?
North Dakota's best hiking trails include:
Little Missouri State Park Loop
Oak Leaf, North Country National Scenic Trails Loop
Fort Abraham Lincoln State Park Loop
Fort Ransom State Park Loop
Icelandic State Park Loop
Lake Sakakawea State Park: Shoreline Trail
North Country Trail: Sheyenne National Grassland
What are the best months to hike in North Dakota?
The ideal time for hiking in North Dakota varies depending on personal preferences and the chosen trails. However, in general, the most popular months for hiking are from June to August.
Related Articles
Explore North Dakota
Featured Addresses