A Massive Blizzard Blanketed North Dakota In Snow In 1966 And It Will Never Be Forgotten
Most North Dakotans see some snow gradually becoming more frequent as winter rolls in once again. Every time it starts to snow here for the first time after the warm months, many people go back in their memories to the snows of winters past. There have been many massive snowstorms and blizzards in North Dakota that forever remain in the minds of those who lived through them. The question "Does it snow in North Dakota?" is so hilarious as to be rhetorical — the Flickertail State is practically synonymous with snow.
There is one blizzard in particular that has become pretty much the stuff of legend in North Dakota. Even if you didn't live through the storm personally, there is an iconic image that many people have seen but don't know the story behind. Today, we'll go back to March of 1966, when an absolutely unforgettable storm swept through the state. The 1966 North Dakota blizzard will live in infamy.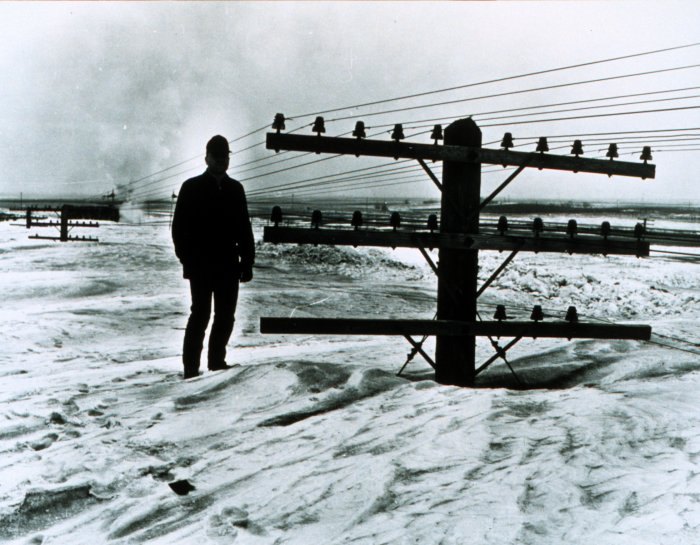 North Dakotans are resilient – we have to be if we want to live up here where temperatures drop below zero and snow is guaranteed each year – and we managed to get through this blizzard despite its sheer, tragic force. In this home video below taken in Valley City, ND just after the blizzard, you can see a family making light of the storm and some of the cleanup efforts in town:
Do you remember the North Dakota blizzard of 1966 or have family stories of those you know who do? Share your experiences in the comments.
OnlyInYourState may earn compensation through affiliate links in this article.
Blizzard in North Dakota
November 23, 2021
What is winter in North Dakota like?  
In one word? FREEZING! North Dakota winters are the kind of winters that seem like they're specifically designed for folks who really, really love the cold – after all, there's plenty of that to go around during the coldest months of the year. Typically, temperatures tend to stay below freezing (so, under 32 degrees Fahrenheit) and snowfall is commonplace. Occasionally, one might see freezing rain and even ice storms, though those aren't quite as common as good old-fashioned snow is. Annual snowfall totals in North Dakota range from 26 inches to 38 inches, all depending on where you're positioned at. North Dakota winters are cold and can be brutal, especially if one isn't accustomed to such low temperatures. However, with some warm layered clothing and cozy heating, one can easily learn to love the winters – even in a frigid place like this one! Not convinced? Well, here's a list of ten reasons nobody goes to North Dakota during the winter.  
What kind of natural disasters in North Dakota are there?  
Unfortunately, North Dakota is not a state free of risk from natural disasters – though you'd be hard-pressed to find a state that is. North Dakota typically sees several kinds of potentially devastating events each year; those include things like severe storms, tornadoes, large hail, blizzards, wildfires, and drought. In fact, North Dakota was the unlucky recipient of the first tornado to be officially rated an F5 on the original Fujita scale. It struck the town of Fargo in June of 1957 and wreaked absolute havoc; luckily, this was one of only three such monstrous storms to strike the state. Tornadoes up here tend to be quite a bit smaller than those ones! Large hail comes with severe storms, and flooding can occur in the heaviest of them. Some years, drought worsens the threat of wildfire. However, as long as you live prepared, you can ensure the safety of yourself and your family even in the most extreme of climates.  
OnlyInYourState may earn compensation through affiliate links in this article.