Keep Your Eyes Peeled, Thousands Of Hummingbirds Are Headed Right For North Carolina During Their Migration This Spring
Good news, North Carolina! The annual hummingbird migration is nearly underway and we're ready to begin spotting the graceful Ruby-throated hummingbird in backyards around parts of the Tar Heel State! Make sure your backyard is ready by setting up one of the best hummingbird feeders possible for these oncoming beauties. Each fall, thousands of these exquisite winged creatures migrate south from as far as Canada all the way down to Central America, Mexico, and parts of Florida – until it's time to head north again in the spring to breed. So, if you want to see hummingbirds in North Carolina, read on to find out more about how and where to look.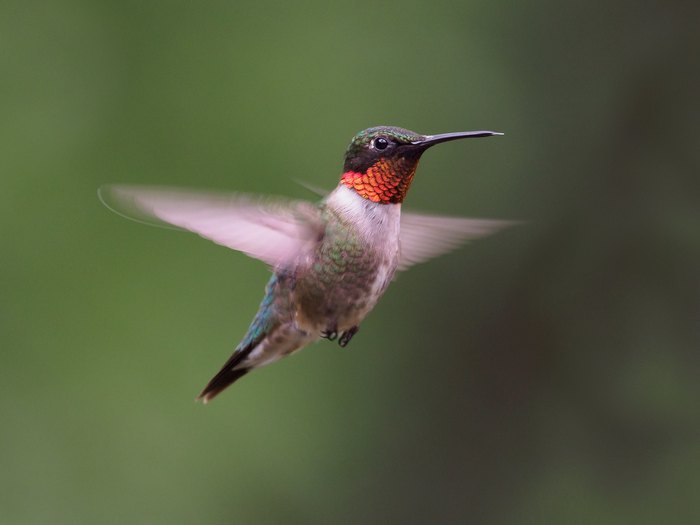 Whether you believe the lore about hummingbirds bringing love and good luck, or are just simply fascinated by this tiny, winged bird, prepare for some springtime delight as they meander in and out of the backyard for the next few weeks!
Have you placed your feeder outside yet? Be sure to use clear nectar that's free from harmful dyes and preservatives!
For more springtime adventure, read about the 13 very best places to go in North Carolina this spring.
OnlyInYourState may earn compensation through affiliate links in this article.
More to Explore
Hummingbirds in North Carolina
What types of hummingbirds are in North Carolina?
Although you're likely to spot the Ruby throated hummingbirds most often during the migration, you might also see these species of hummingbird in North Carolina this spring.
Ruby throated Hummingbird
Rufous Hummingbird
Anna's Hummingbird
Black-chinned Hummingbird
Calliope Hummingbird
Broad-tailed hummingbird
Allen's Hummingbird
When should I hang a hummingbird feeder in North Carolina?
If you're feeling generous, leave your hummingbird feeder out year round to cater to the birds that spend the winter in North Carolina. Otherwise, put your feeder out in the spring when most birds arrive. At either time, you'll want to find the best hummingbird feeders for the hungry birds.
Is it safe to feed hummingbirds in North Carolina?
It is extremely safe to feed hummingbirds in North Carolina. In fact, it's downright necessary! These birds need fuel after a long journey from South America.
Related Articles
Explore North Carolina
Featured Addresses