This Scenic Road Trip Takes You To All 10 Wonders Of New York
By now, everyone is familiar with the 7 Wonders of the World. You know, the most epic list of creations compiled from around the world that leave us all at a loss for words. But if you asked us, "What are the top seven natural wonders in New York," we'd tell you that our state is too huge to narrow things down to just seven…and instead, hit you with a list of 10! That's right; we scoured the state – from up in the Adirondacks to out in western New York and beyond. We didn't stop there, though. We took things a step further and compiled said wonders into a road trip, which, we believe (and we're sure you'll agree) is one of the most scenic road trips in New York. So, gas up the car and get ready to explore the most beautiful places in New York.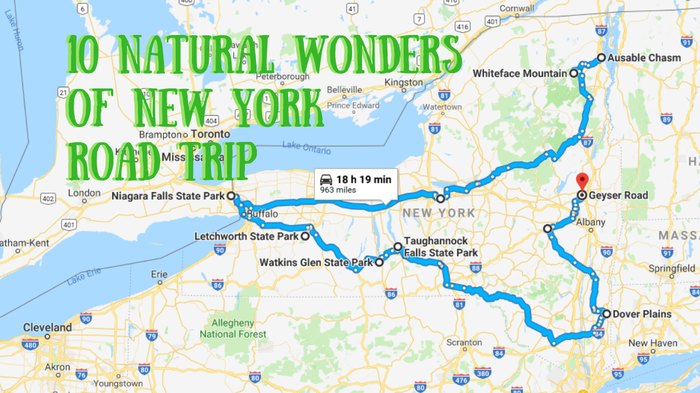 So, what do you think? Is this one of the most scenic road trips in New York, or what?!
Need another reason to hit the road? Then read about how This New York Park Has Endless Boardwalks And You'll Want To Explore All Of Them!
OnlyInYourState may earn compensation through affiliate links in this article.
Address: Ausable Chasm, NY 12911, USA
Address: Whiteface Mountain, Wilmington, NY 12997, USA
Address: Green Lakes State Park, 7900 Green Lakes Rd, Fayetteville, NY 13066, USA
Address: Niagara Falls, NY, USA
Address: Letchworth State Park, 1 Letchworth State Park, Castile, NY 14427, USA
Address: Watkins Glen State Park, 1009 N Franklin St, Watkins Glen, NY 14891, USA
Address: Taughannock Falls State Park, Ulysses, NY 14886, USA
Address: 3128 NY-22, Dover Plains, NY 12522, USA
Address: 255 Discovery Dr, Howes Cave, NY 12092, USA
Address: Island Spouter, Saratoga Springs, NY 12866, USA
Scenic Road Trips In New York
July 15, 2021
What are some other can't-miss natural wonders in New York?
There seems to be no shortage of natural wonders in New York. One that you don't want to miss is Eternal Flame Falls. Located within Orchard Park's Chestnut Ridge Park, the 30-foot waterfall is broken up into two segments. The top tier features a narrow cascade, while the bottom tier fans out to more than twice the width of the upper portion. The waterfall's moniker may seem strange at first, but it makes sense once you learn that the small grotto near the fall emits a natural gas that can be ignited to produce a small flame. It's important to remember that Eternal Flame Falls flows seasonally and will most likely be dry in warm weather.
What are some lesser-known beautiful places in New York?
Among the lesser-known beautiful places in New York is Grime Glen Park. Located in the small village of Naples, the park boasts a long, deep gorge and several waterfalls. The waterfalls are easy to find, thanks to the well-marked trails that wind through the park. Even if you don't take in all three falls, you'll definitely want to hike as far as the second cascade, which is about 60 feet in height. It should be noted that the trek to the third fall is a bit more difficult and should only be attempted by experienced hikers.
Are there any other must-visit places in New York?
There are tons of sites that qualify as "must-visit places in New York" – and Cohoes Falls is one of them! There are small waterfalls scattered throughout Upstate New York, so much so, that it'd be easy to overlook a few. However, Cohoes Falls, which is shared by the town of Waterford and the city of Cohoes, is one that shouldn't be missed, and that's because it's absolutely breathtaking! The waterfall's flow can halt to a trickle in the summer, but come the cooler months, it flows with force, cascading over a 1,000-foot series of rocky ledges. For the best views of the fall, head to Falls View Park. True to its name, park-goers are afforded incredible close-up vistas.