The Most Beautiful Gorge In America Is Right Here In New York... And It Isn't Ausable Chasm
When you think of a famous gorge in New York, your mind probably immediately goes to Ausable Chasm. The massive canyon is 50 feet wide in some areas and spans a depth of 200 feet. It was one of the first tourist attractions in the country and is nicknamed the "Grand Canyon of the East." It's undoubtedly one of the greatest natural wonders in New York and we highly recommend a visit. But there's another grandly gorgeous New York gorge that shouldn't be ignored! Country Living even listed it as the most beautiful gorge in America. And that gorge is Watkins Glen. VC
History & Geology At Watkins Glen State Park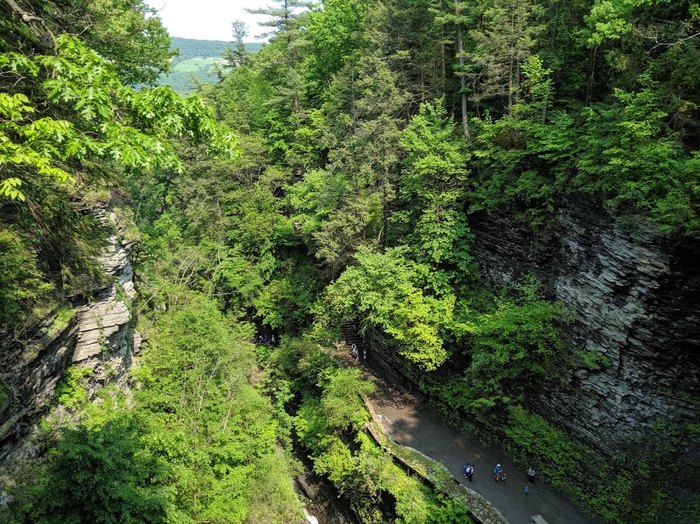 The Gorge Trail At Watkins Glen State Park
Other Hiking Trails In Watkins Glen State Park
Camping At Watkins Glen State Park
Get more information on Watkins Glen State Park by visiting its website and start planning your adventure today.
Have you visited Watkins Glen State Park in New York? Have you ever spent the night in one of the Watkins Glen State Park cabins? Share your experiences in the comments!
The park isn't the only popular attraction in Watkins Glen! Check out Watkins Glen International racetrack.
OnlyInYourState may earn compensation through affiliate links in this article. As an Amazon Associate, we earn from qualifying purchases.
More to Explore
Watkins Glen State Park in New York
What are some other beautiful places to hike in New York?
We adore the Gorge Trail at Watkins Glen State Park, but it is by no means the only scenic hike in New York! If you're looking for beautiful hikes in New York, we have a few suggestions:
Letchworth State Park. In Upstate New York, there's a particularly epic, 176-foot waterfall that attracts upwards of 8 million visitors each year and definitely demands the spotlight. Of course, we're talking about Niagara Falls, which truly is one of the world's most splendid natural wonders. However, there's another destination that's less than two hours from the world-famous falls that's equally wondrous and meritorious in its own right: Letchworth State Park. This New York State Park has some of the most sublime scenery in the country. Here, the Genesee River roars through the majestic gorge, over picture-perfect tiered waterfalls, between stately cliffs, and along the lush Upstate wilderness. Lauded as the "Grand Canyon of the East," Letchworth State Park is absolutely magnificent – a stunning wonder that must be experienced. In terms of hikes at Letchworth State Park, be sure to check out:

Letchworth State Park Gorge Trail. At 14 miles long, the Gorge Trail

 is definitely on the more advanced end of the hiking spectrum, but it winds through some of the park's most unique geological features; most notably, its iconic, 600-foot-tall gorges. It's these weathered walls that have earned Letchworth the moniker "Grand Canyon of the East," and this trail put hikers right in the middle of it all.




Genesee Falls Gorge Trail. It runs parallel to the Gorge, and the terrain is relatively flat and easy to navigate. In addition to offering incredible views of the lower and middle falls, there are several secluded, scenic points along the Genesee Fall Gorge Trail

 that make it an underrated treasure at Letchworth.




John Thacher State Park. A favorite hike for those who are living in the area of the Capital Region, the Indian Ladder Trail is one that you'll wish you knew about sooner. The most popular trail to explore in Thacher State Park, you'll get to enjoy panoramic views from the top and even get to experience walking behind Minelot Falls along the way!
Chimney Bluffs State Park. Just east of Rochester out along Lake Ontario is a state park that will give you never-ending views of the water. The 600-acre park features beautiful natural wonders that you'll be able to soak in along the 1.25-mile Chimney Bluffs Trail. Down along the shore you'll find a beach made up of colorful stones where you'll be able to enjoy a leisurely stroll and look out for miles and miles!
Related Articles
Featured Addresses

Watkins Glen State Park, 1009 N Franklin St, Watkins Glen, NY 14891, USA