This County In New Mexico Was One Of The Most Dangerous Places In The Nation In The 1870s
Back in the late 1870s, Colfax County was a dangerous place. It was, in fact, the single most dangerous county in New Mexico. It was home to bawdy mining camps, range wars, tribal conflicts, and deadly gunplay. Below, we take a peek at what was going on in Colfax County in the 1870s: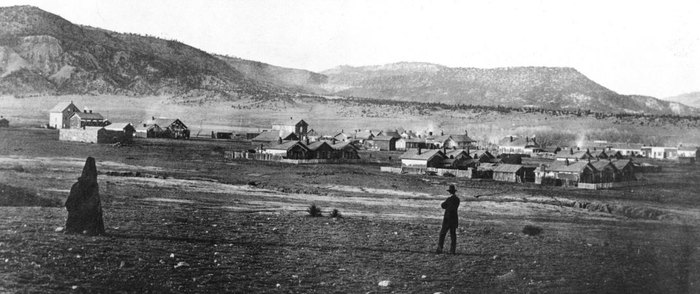 Today, you can take a historic walking tour through Old Town Cimarron. The tour includes 14 historic sites that date back to the mid-1800s, like the old jail, stage office, and the St. James Hotel. Be sure to visit the Old Mill Museum too.
Special thanks to the New Mexico Farm and Ranch Heritage Museum and the Cimarron Chamber of Commerce for their help with images and permissions! We greatly appreciate you and everything you do and bring to the people of New Mexico. 
OnlyInYourState may earn compensation through affiliate links in this article.
Address: Cimarron, NM 87714, USA
Most Dangerous County in New Mexico
September 13, 2021
Where is Colfax County in New Mexico?  
Colfax County is located in northeastern New Mexico, just south of the Colorado state line. It was named for the 17th Vice President of the United States, Schuyler Colfax in 1869. Its history is both vibrant and dark – over the decades, there have been plenty a triumph and plenty a hard time here. It was once the most dangerous place in the entire state thanks to rampant crime and outlaw politics. There was also a literal war here – appropriately called the Colfax County War – fought over land in 1875. Today, it's a much quieter place, but there's no denying that it was once a hotbed of chaos and land with few, if any, laws.  
What are the most dangerous places in New Mexico? 
According to USA.com, some of New Mexico's most dangerous cities and places to live include Springer, Melrose, and Capitan, as well as Lordsburg, Hurley, and Questa. Recently, the town of Espanola was named the single most dangerous city in the entire state by the FBI, edging out Gallup for the #1 spot. Overall, New Mexico is not a terribly dangerous place to call home, but like most (if not all) places, it's got its bad spots here and there. We have previously published articles about this very topic, and you can see them here and here. Make notes of which towns show up over and over – those are the ones you'll likely want to avoid if you can.  
What were some interesting times in New Mexico's history? 
New Mexico is a state filled with vibrant and interesting history, especially if you're one of those who are fascinated by tales from the Old West. Like, did you know that the earliest Spanish settlement in what is now the state of New Mexico was established in 1598? Talk about a place that goes way back! The U.S. acquired the territory in 1848 as a result of the Mexican War. It was fought over during the Civil War. In 1945, New Mexico became a world leader in energy research. Needless to say, this state has been through and seen quite a bit, and we couldn't be prouder to call this beautiful place our home.