A Creepy Ghost Town In New Mexico, Cuervo Is The Stuff Nightmares Are Made Of
Abandoned buildings and even entire towns litter the land here. That's because New Mexico's history is closely tied to mining and railroads. As a result, many places experienced a brief period of prosperity, followed by a bust. Some people find the uninhabited or barely-occupied ghost towns left behind fascinating, while to others they're just plain creepy. Cuervo is one such town. Are you brave enough to visit this ghost town in New Mexico?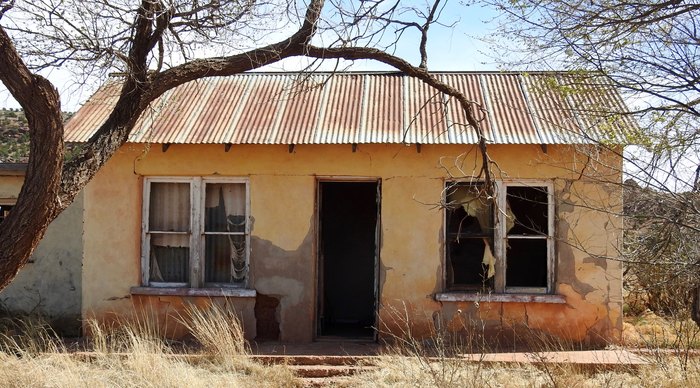 As far as ghost towns go, Cuervo is easily accessible – right off I-40, east of Santa Rosa. The convenience of its location sometimes means problems and possibly even crimes, as discussed in this KRQE video.

Some people claim to have had paranormal experiences in the town. (Warning: this video contains some profanity at the end.)

Is Cuervo a literal ghost town or is it haunted by human predators? Maybe it's just an abandoned spot in New Mexico that is frozen in time and maintains a fascinating history through its remnants.
Have you visited? What was your experience in Cuervo? If you like learning about creepy spots like this, you'll find more ghost towns in New Mexico here.
OnlyInYourState may earn compensation through affiliate links in this article.
More to Explore
Ghost Towns In New Mexico
What are the most haunted places in New Mexico?
Abandoned towns might be creepy, but not all of them are known to be haunted. If you're interested in exploring the paranormal of New Mexico, here are some of the most haunted places. The Hotel Parq Central in Albuquerque is considered one of the spookiest in the state. It was originally a railroad worker hospital, then a psychiatric facility, and finally the hotel it is today. Guests report having their sheets yanked off by supposed lingering spirits. Another spooky hotel is La Fonda on the Plaza in Santa Fe. Allegedly, there are multiple ghosts hanging around, including that of a murdered bridge, suicidal salesman, and even a judge.
Can I visit any abandoned places in New Mexico?
There are quite a few abandoned places in New Mexico that you can visit if you dare. Long forgotten mining towns are especially prevalent, such as that of Hagan. The coal mine in Hagan closed in 1939 and the town has been slowly decaying ever since, with abandoned buildings and fallen structures. The town of Chloride suffered a similar fate, although not entirely abandoned today with just a few residents left. A lot of the original buildings of this once-prominent silver mining town are still there, and it'll take you back in time.
What are the creepiest places in New Mexico?
According to legend, Deming, New Mexico is one of the creepiest places in the state with all things paranormal happening. This creepy place has a history full of death, including the many who died at a sanitarium in the 1920s. After it was closed, it was supposedly the place for devil worship and satanic cults in the 1970s. Paranormal investigators have concluded other parts of Deming are also haunted, such as the middle school and a local deli. Needless to say, this town is by far one of New Mexico's creepiest when it comes to evidence of the supernatural.
Related Articles
Explore New Mexico
Featured Addresses