This New Mexico Road Trip Takes You From The Underground Carlsbad Caverns To The Mountains Of Taos
Road trip season is year-round, right? If you've been itching to get out and explore even more of our fantastic state, you're in luck! Time to pack up your car, grab some of your favorite snacks and car tunes, and get ready for another New Mexico road trip. This time, we've got a wild adventure planned for you that traverses nearly the entire state. Be sure to bring your camera for this one as you explore everything from the Carlsbad Caverns in the south to the mountains of Taos in the north – we're taking you literally from bottom to top! This is one New Mexico road trip that should not be missed.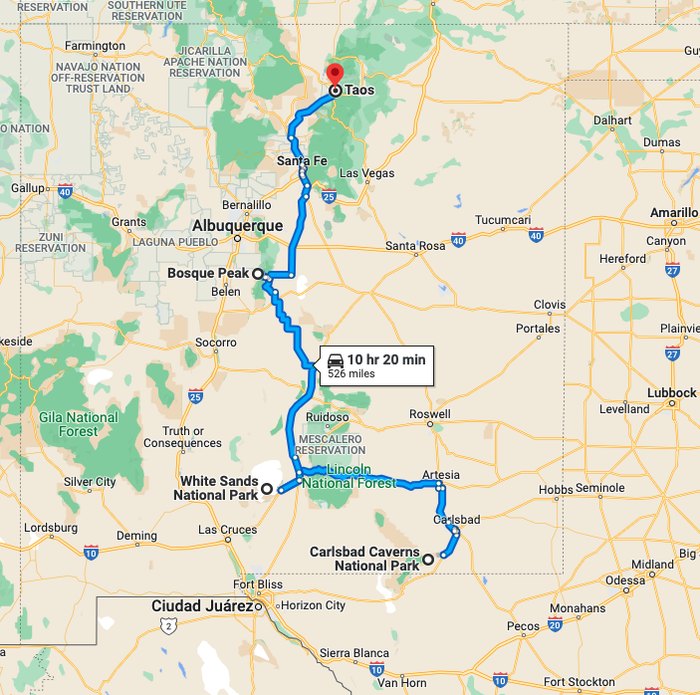 This New Mexico road trip is definitely longer than the itineraries we usually put together, but one that is absolutely worth the extra drive time. Along the way, you'll visit two national parks, multiple mountain ranges, cave, and even New Mexico's legendary sand dunes, giving you an amazing taste of all that the Land of Enchantment has to offer. You'll love every part of this fantastically diverse journey on this road trip in New Mexico!
For even more New Mexico road trip ideas, check out 11 of our favorites around the state. Or, If you find yourself hanging out down south, take this Southern New Mexico road trip to see everything this overlooked region has to offer!
OnlyInYourState may earn compensation through affiliate links in this article.
More to Explore
New Mexico Road Trip & Related Info
What some other must-visit places in New Mexico?
New Mexico truly is the Land of Enchantment! From picturesque dunes and vibrant desertscapes to man-made wonders, historic cultural remnants, and everything in between, there's nowhere in the world quite like New Mexico. 
For a casual escape into nature with no hiking required, a botanical garden is the best place to start! Some of the best botanical and sculpture gardens in New Mexico are:
What are some of the most unique museums in New Mexico?
While New Mexico is full of spectacular art and history museums, travelers can also peruse a more unique side of NM with a visit to one of the state's weirdest museums. Whatever topic piques your curiosity, you're sure to find it! These eclectic specialty museums in New Mexico are definitely worth a visit:
American International Rattlesnake Museum, Albuquerque
Anderson-Abruzzo International Balloon Museum, Albuquerque
Billy the Kid Museum, Fort Sumner
Classical Gas Museum, Embudo
Institute of Meteoritics Meteorite Museum at the University of New Mexico, Albuquerque
International UFO Museum and Research Center and Gift Shop, Roswell
Museum of International Folk Art, Santa Fe
New Mexico Farm & Ranch Museum, Las Cruces
Telephone Pioneer Museum, Albuquerque
Tinkertown Museum, Sandia Park
Toy Train Depot, Alamogordo
Turquoise Museum, Alburquerque
Looking for the perfect weekday adventure? These free museums in New Mexico are all worth a visit.
Related Articles