There's Nothing Better Than This Mouthwatering Enchilada Trail In New Mexico
The only thing better than a New Mexico road trip is taking a food-themed New Mexico road trip! Enchiladas are one of the most popular dishes in New Mexico, so we decided to create a drive that unites some of the best enchiladas in NM so that you can enjoy them all in one journey.
This loop covers 525 miles and has a drive time of 9 hours and 10 minutes. That might sound long but (we assume) there is a limit to the number of enchiladas you can eat in one day, so it's meant to span several days. You'll find plenty of attractions, gorgeous landscapes, and – of course – delicious enchiladas on this trip through northwestern New Mexico. Here is the map. What are you waiting for?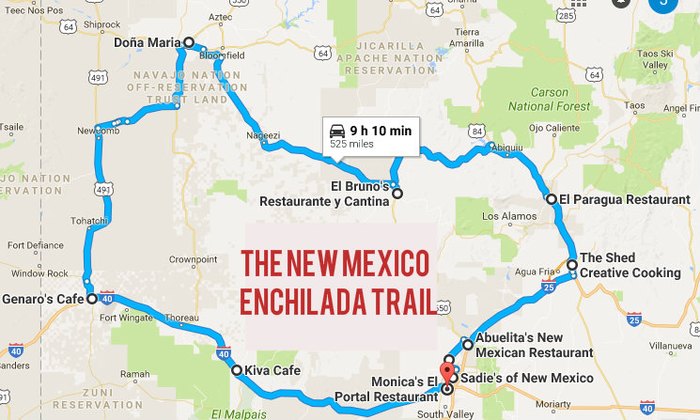 Where do you go when an enchilada craving hits?
We realize that this drive only covers one corner of the state, otherwise you'd be driving for weeks! However, these articles on scrumptious Mexican restaurants in NM and the best taco spots in New Mexico are more geographically comprehensive. You may also be interested in exploring New Mexico's burrito byway.
Bring your appetite!
OnlyInYourState may earn compensation through affiliate links in this article.
More to Explore
Best Enchiladas
What are the best Mexican restaurants in New Mexico?
Many of the places on the Enchilada Trail are exceptionally good Mexican restaurants, but here are a few of the other stellar - and often considered the best - Mexican restaurants in New Mexico. Habanero Fresh Mex in Las Cruces will start your meal off with a delicious, complimentary welcome soup before you get to divulge on their impressively tasty and well-made menu. Their potato tacos are certainly worth a try, among many other options. Taqueria Mexico, located in Albuquerque, is easily missed as it's tiny and has an old-fashioned walk-up window. You don't want to pass this one by, however, as their food - especially seafood - is out of this world. The fish tacos and ceviche are amazing.
What food trails can I take in New Mexico?
If you liked this road trip, then you'll love these other food trails in New Mexico. If you're in the mood for tacos, try our New Mexico Taco Trail. The loop includes 10 top-notch taco joints and restaurants from Santa Fe to Roswell, Los Alamos, and many places in between. If sweets are more of your thing, we have a delicious New Mexico Chocolate Trail that is simply to die for. And what visit to the Land of Enchantment would be complete without a green chile trail? Yes, you can indeed go on a New Mexico Green Chile Trail through Mesilla and Las Cruces. The restaurants featured on the trail have green chile on everything from burgers to ice cream, or simply roasted as-is.
What are the best restaurants in New Mexico?
After trying all these places for the best Mexican food in New Mexico, you might also be interested in some other types of cuisine that these top-rated restaurants offer. The Bavarian in Taos serves hearty, tasty German food and other Old World meals that you'll love. Charlie's Spic & Span, also known as Charlie's Bakery & Cafe, is the Las Vegas, NM food destination you won't want to pass up. They have classic diner meals, freshly-made tortillas, and scrumptious baked goods. Hankering for a burger? Chef Toddzilla's Gourmet Burgers, located in Roswell, are massive and towering with toppings that'll definitely fill you up.
Related Articles