11 Unimaginably Beautiful Places in New Mexico That You Must See Before You Die
New Mexico is a truly beautiful state. After all, it's nicknamed the Land of Enchantment for a reason. Here are 11 of the most beautiful places in New Mexico that belong on your New Mexico bucket list. Check them out and you'll be glad you did!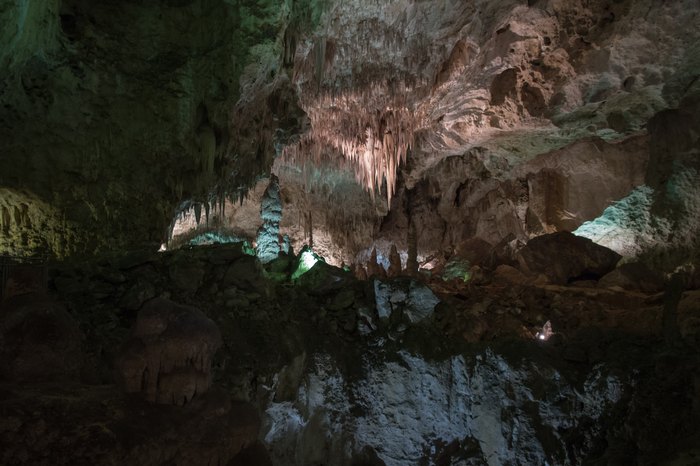 How many of these gorgeous places have you seen? Where are some other of the most beautiful places in New Mexico you can think of? Nominate your favorites here!
Address: Carlsbad Caverns National Park, Carlsbad, NM 88220, USA
Address: 280 Private Drive 1708 Highway, US-84, Abiquiu, NM 87510, USA
Address: Bisti/De-Na-Zin Wilderness, County Road 7297, Bloomfield, NM 87413, USA
Address: Rio Grande Gorge Bridge, New Mexico 87529, USA
Address: 19955 US-70, Alamogordo, NM 88310, USA
Address: Blue Hole, Santa Rosa, NM 88435, USA
Address: Bosque Del Apache National Wildlife Refuge Visitor Center, 1001 NM-1, San Antonio, NM 87832, USA
Address: Valles Caldera, New Mexico 87025, USA
Address: Kasha-Katuwe Tent Rocks National Monument, 0 NM-22, Cochiti Pueblo, NM 87072, USA
Address: Brazos Cliffs, New Mexico 87520, USA
Address: Bandelier National Monument, 15 Entrance Rd, Los Alamos, NM 87544, USA
Most Beautiful Places In New Mexico
December 04, 2020
What is the most scenic town in New Mexico?
You can experience some of the most picturesque places in New Mexico all from some perfectly-placed towns. These towns are surrounded by beautiful places. Cloudcroft, New Mexico isn't a very big town, but people love to visit it to explore the pretty scenery around it and check out its history. Chama, New Mexico is one of the prettiest spots in the state and it's one of the points on the Cumbres and Toltec Scenic Railroad. That railroad is considered one of the best, most beautiful train rides you can take in the United States, so you can see why people would consider Chama scenic.
Which state parks in New Mexico should I visit?
You should add these state parks to your New Mexico bucket list if you enjoy the great outdoors. Elephant Butte State Park is the largest in the state, and it's a summer destination people enjoy visiting year after year. The City of Rocks State Park is certainly unique, so much so that you might feel like you're on an entirely different planet. You'll want to bring your camera when you visit. Did you know New Mexico also has a state park that includes a zoo? The Living Desert Zoo and Gardens State Park, located near Carlsbad, has a wide variety of plants and animals on display that are native to the area.
Does New Mexico have any natural wonders?
The most scenic spots in New Mexico are often considered natural wonders. Spots like the aforementioned White Sands National Park are truly marvels of nature. The White Sands is the largest desert of its kind in the entire world, for instance. Another natural wonder is the stark white cliffs of Plaza Blanca in Abiquiú, New Mexico. They are part of the Georgia O'Keeffe Country that inspired the famous artist.
Address: Carlsbad Caverns National Park, Carlsbad, NM 88220, USA
Address: 280 Private Drive 1708 Highway, US-84, Abiquiu, NM 87510, USA
Address: Bisti/De-Na-Zin Wilderness, County Road 7297, Bloomfield, NM 87413, USA
Address: Rio Grande Gorge Bridge, New Mexico 87529, USA
Address: 19955 US-70, Alamogordo, NM 88310, USA
Address: Blue Hole, Santa Rosa, NM 88435, USA
Address: Bosque Del Apache National Wildlife Refuge Visitor Center, 1001 NM-1, San Antonio, NM 87832, USA
Address: Valles Caldera, New Mexico 87025, USA
Address: Kasha-Katuwe Tent Rocks National Monument, 0 NM-22, Cochiti Pueblo, NM 87072, USA
Address: Brazos Cliffs, New Mexico 87520, USA
Address: Bandelier National Monument, 15 Entrance Rd, Los Alamos, NM 87544, USA