Everyone In New Jersey Should Visit This Epic Flea Market At Least Once
Who doesn't love a good deal? There are hundreds of flea markets, consignment stores, and antique shops in New Jersey. You can get so many deals at these places: unique pieces and unbelievable prices, what could be better? You don't need to go far to find a bargain. Flea markets are a personal favorite of many bargain shoppers. The multitude of vendors and varied selections means you never know what you'll find. When you're on the hunt for the best flea markets in New Jersey, we have one spot that should always be on your radar. The Cowtown Flea Market in Pilesgrove, New Jersey is an indoor/outdoor flea market that runs year-round and offers an unforgettable experience.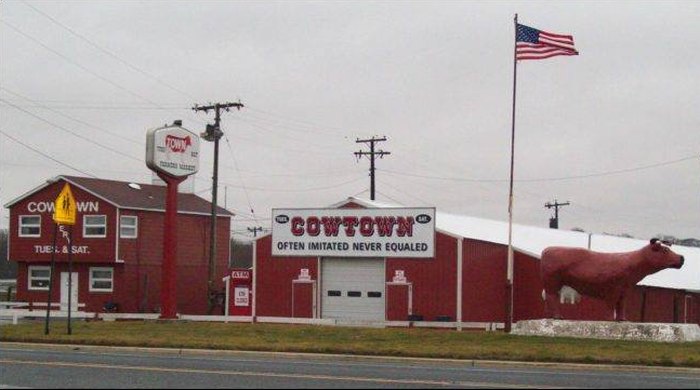 This place is so much fun! It's one of the most unique places to visit in New Jersey. Don't believe us? With over 39,000 fans on the Cowtown Flea Market Facebook page, it's clear that the Garden State loves Cowtown. You can also get more information from the Cowtown Flea Market website.
OnlyInYourState may earn compensation through affiliate links in this article.
Address: Cowtown Farmers Market, 780 Harding Hwy, Pilesgrove, NJ 08098, USA
Best Flea Markets In New Jersey
September 04, 2021
Where can I find the largest flea market in New Jersey?
While Cowtown Flea Market is certainly one of the most fascinating, there is another flea market in New Jersey worth mentioning. Considered to be one of the largest in the state, Englishtown Farmers and Flea Market is the perfect place to unearth a bargain. Located in Manalapan Township, this behemoth of a flea market has been around for nearly a century! There is so much to explore in this family-operated flea market, you can visit every weekend for a month and still not see everything.
Where can I find the best farmers markets in New Jersey?
Beyond the flea markets, farmers markets in New Jersey are equally as rewarding to explore. New Jersey has 18 farmers markets, each one different from the last. Check out Sparta Farmers Market, which is held year-round, with tons of local businesses featured. Or the Historic Downtown Jersey City Farmers Market right on the Hudson River! Additionally, another farmers market in New Jersey that deserves recognition is The Stangl Factory. This year-round, indoor farmers market was once a historic pottery factory, but now features an incredible mix of local goods.
Are there any nostalgic stores in New Jersey?
We love old-fashioned shops or historic stores that offer up a glimpse back in time. Some of the most unique places in New Jersey highlight nostalgia in a way that cannot be duplicated. For instance, have you ever visited Schooley's Mountain General Store? As one of the oldest operating general stores in the entire country, stepping inside will take you back in time. Still today, you can visit for some ice cream, delicious sandwiches, or even to drop off a letter in the post.