The V&T Railroad Steam Train Rides Offer Some Of The Most Breathtaking Views In Nevada
All aboard the Virginia & Truckee Railroad in NV! It's no secret that the railroad industry was quite impactful in the early days of the Silver State. Although most of the world has moved on from the days when trains were the ultimate form of transportation, you can still experience a good old-fashioned NV train ride with the Virginia & Truckee Railroad. Operating century-old steam engines, the railway offers steam train rides through the majestic Nevada landscape. Riding through the hills of Northern Nevada in a historic train is certainly something you won't forget. Check it out!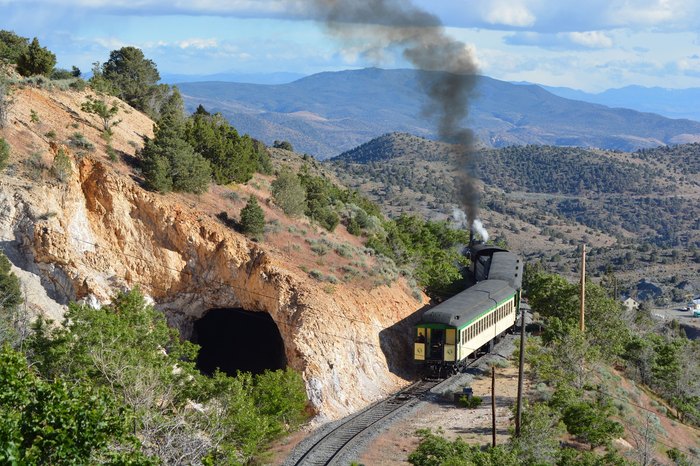 Visit the website for the Virginia & Truckee Railroad to help plan out your train trip.
What do you think? Are you ready to take a ride on a historic steam train in NV? This looks like so much fun! Tell us your thoughts or any experiences you may have had in the comments below.
Worked up an appetite on the train? Grab a bite to eat at one of these awesome Nevada restaurants.
Address: Virginia & Truckee Railroad Company, 166 F St, Virginia City, NV 89440, USA
Fall in Nevada
September 11, 2022
What are the best outdoor adventures in Nevada?
While there is much to do when it comes to outdoors in Nevada, some of the best adventures are undoubtedly to be had in the state's two national parks. Great Basin National Park is located in Pine County. Within this 77,000-acre park, just some of the views you'll get will include the South Snake Mountains and Wheeler Peak, all nestled among ancient bristlecone pine trees. There's also the Lehman Caves for exploration as well as opportunities for hiking, fishing, and ranger-led tours. While many associate Death Valley National Park with California, part of it actually lies in Nevada. The park's three million acres offer much for examination, whether that's for hiking, camping, backcountry driving, biking, or backpacking. And of course, places like Titus Canyon, Zabriskie Point, and Badwater Basin are must sees.
What are the scariest haunted houses in Nevada?
If you are looking for some scares in the Silver State, know that there are several haunted houses in Nevada. One of the best, Asylum and Hotel Fear, is in Las Vegas. Here, you'll have two haunted houses to roam through, with the themes interconnected with one another. It is one of the scariest and largest attractions in the entire state and features professional actors, props, and designs. You'll find it in the Meadows Mall.
What are the best pumpkin patches in Nevada?
Another great fall favorite is pumpkin picking in Nevada. In Las Vegas, there is Gilcrease Orchard. Here, you can hunt for your favorite size, shape, and color of pumpkin and then grab come donuts and apple cider to celebrate your victory. And don't forget to grab some produce too! The Moapa Valley Corn Maze in Moapa offers a ton of activities for visitors. From zombie paintball to two different corn mazes to hayrides to a petting zoo (and oh-so-much more), you'll have plenty to do after you've picked the perfect pumpkin or two to take home with you.
Address: Virginia & Truckee Railroad Company, 166 F St, Virginia City, NV 89440, USA