Take This Road To Nowhere In Nebraska To Get Away From It All
Sometimes you need to take a drive to get away from everything and clear your mind. Lucky for you, you live in Nebraska – a place of exceptional beauty and some of the most scenic drives in the Great Plains. This "road to nowhere" drive actually can take you to some wonderful places, but it's a perfect journey if you just want to get in the car and see some of Nebraska's loveliest sights without necessarily getting out and walking around. It'll take you around two and a half hours from start to finish. The link to the Google map is here if you would like turn-by-turn directions or need to change the route. We feel like this is easily one of the most scenic drives in Nebraska, and you're sure to love it as much as we do!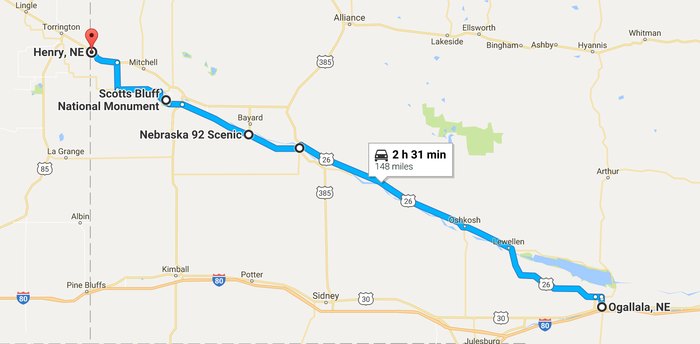 From here, you can continue on to an adventure in Wyoming or loop around to go back to where you started your journey. For a much longer western Nebraska drive that takes you through tons of incredible natural wonders, be sure to check out our epic western Nebraska natural wonders road trip. You can't miss it!
Have any scenic routes you'd like to see featured someday? Let us know by filling out this form and you just might!
Address: Nebraska 92, NE-92, Omaha, NE, USA
OnlyInYourState may earn compensation through affiliate links in this article.
Best Scenic Drives in Nebraska
September 11, 2021
What are some beautiful drives in Nebraska? 
Nebraska is a very scenic state – ignore anyone who says otherwise! 
As long as
 you know where to look, you're sure to find breathtaking drives all over the state, no matter where you're beginning your journey from. Some of our favorite beautiful drives in Nebraska include gems like the 385 Gold Rush Scenic Byway, which runs from the Colorado state line to Chadron, and the Heritage Highway, a 238-mile stretch of gorgeous road from Brownville to Edison. Read on for even more! 
Which scenic Nebraska byways should I add to my bucket list? 
Believe it or not, Nebraska is home to nine scenic byways, all of which are truly worth the time it takes to drive them. Some of our very favorites (although it's extremely difficult to narrow it down to just a couple) include the incredible Bridges to Buttes Byway, an epic 197-mile stretch of scenic road in northwestern Nebraska, the Loup Rivers Scenic Byway, a 150-mile scenic route covering Highways 91 and 11 in central Nebraska, and the Outlaw Trail Scenic Byway, which will blow your mind with its absolutely incredible scenery (including one of the most epic waterfalls in the entire Cornhusker State). There's also the Sandhills Journey Scenic Byway, which consists of 272 miles of interesting sights and scenes. For more details about all these scenic Nebraska byways and then some, 
take a look
 at this article. 
Where is Scenic Highway 92 in Nebraska? 
Scenic Highway 92, also known as HWY NE 26/US 92, also known as the Western Trails Scenic Byway, is a truly breathtaking scenic drive stretching from Ogallala to the Wyoming state border. It's a bit shorter than many of Nebraska's scenic drives, at just 144 miles in length, but it's jam-packed with things to see and do. You'll want 
take
 at least an entire day to drive it so you can enjoy all the stops along the way; better still, it's 
pretty easy
 to create an entire weekend adventure around this drive, and who doesn't love weekend-long vacations? 
Address: Nebraska 92, NE-92, Omaha, NE, USA
OnlyInYourState may earn compensation through affiliate links in this article.