One Of The Most Scenic Drives In America Is Right Here In Nebraska
Now, we don't know about you, but if there's one thing we never seem to grow tired of, it's finding new inspiration for a future road trip or two. We've featured plenty of terrifying trips that will take you to unforgettable places that might make your skin crawl a little, but if you're looking to experience something a little more scenic and a little less scary, then this amazing drive may be what's right for you. It's often hailed as one of the best scenic drives in Nebraska, and once you start, it's easy to see why.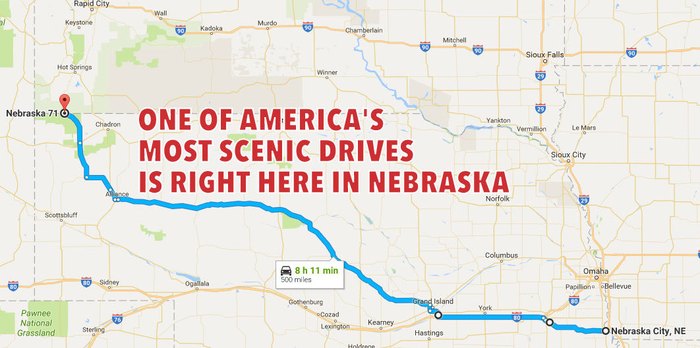 So, what do you think? What are your choices for the best scenic drives in Nebraska? Tell us about them in the comments!
Want to go for another beautiful ride through our state? Then you'll want to find out about This Gorgeous Fall Foliage Road Trip Where You'll See Nebraska Like Never Before!
OnlyInYourState may earn compensation through affiliate links in this article.
Address: Nebraska 2, NE-2, Grand Island, NE, USA
Best Scenic Drives in Nebraska
July 27, 2021
How long is Nebraska's Highway 2?  
You know, people seem to give Nebraska a lot of flak that it doesn't deserve. It turns out that once you know where to look to find all the epic gems and things Nebraska has to offer, it suddenly takes on a magic you didn't know it had. Highway 2 is one of those things. Also known as the Sandhills Journey Scenic Byway, it's actually in two separate parts. The western segment starts at the state border with South Dakota and ends at I-90. The eastern segment starts in Lincoln and goes all the way to the Iowa border. In total, it stretches 51.8 miles, making it a fairly easy drive to do in a day.  
What are some scenic places in Nebraska?  
Nebraska is a beautiful state known for its gorgeous prairies, endless plains and rolling hills. Those who are fans of geology will love some of Nebraska's wonders, like the Courthouse and Jail Rocks along the old Oregon Trail, and Chimney Rock is world-famous for its unusual appearance and fascinating natural history. The Lewis & Clark State Recreation Area is breathtaking, and we also really love the Oglala National Grasslands, which showcase the beauty of the great plains. For more of our favorite scenic places in Nebraska,  take a look at this article.  
What are the most beautiful drives in Nebraska? 
Well, other than Highway 2, of course – there's lots! People don't give this state enough credit for its beauty, and that includes scenic drives all over the state. For example, the 385 Gold Rush Scenic Byway runs from the Colorado state line to the South Dakota State Line, and the colors there during fall are to die for. The Bridges to Buttes Byway is incredible in spring and summer, especially when the wildflowers are at their prime. The Loup Rivers Scenic Byway often gets compared to something out of The Hobbit; it's remarkably picturesque.