A Drive Down Nebraska's Loneliest Road Will Take You Miles And Miles Away From It All
To people traveling cross-country between the east and west, Nebraska seems like a barren wasteland. We forgive them for thinking that way because there is almost nothing to see along I-80. But if you're going all the way north to south (or vice versa), you'll most likely travel US-83, one of the most underrated highways in the state. In fact, it might just be one of the most scenic drives in Nebraska.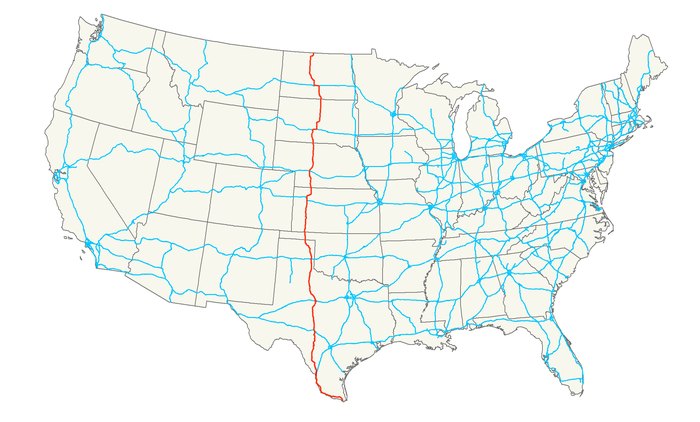 You won't run into traffic on Hwy 83 – it's actually a rather rare occurrence to see another car on the road. This is the perfect opportunity to get away from life for a little while, to experience a part of Nebraska that not many people take the time to really see. You can take the entire 257-mile journey all at once or just travel part of it. Either way, you might just be surprised at how beautiful this often-forgotten part of our state is. There's even a fan page celebrating Hwy 83, one of the best scenic drives in Nebraska, and all it has to offer. Check it out here.
If you're interested in more of the most scenic drives in Nebraska, take a look at these 9 beautiful byways.
Address: U.S. Highway 83, US-83, North Platte, NE, USA
best scenic drives in Nebraska
August 05, 2021
What are the most scenic drives in Nebraska?
One of the best ways to experience the natural beauty and charm of Nebraska is by driving through it. Fortunately, the state offers plenty of beautiful drives for you to enjoy. Some of the most scenic drives in Nebraska include 385 Gold Rush Scenic Byway, Bridges to Buttes Byway, Heritage Highway, Lewis & Clark Scenic Byway, Lincoln Highway Scenic & Historic Byway, Loup Rivers Scenic Byway, Outlaw Trail Scenic Byway, and Sandhills Journey Scenic Byway. How many of these scenic drives in Nebraska have you experienced?
Does Nebraska have any hidden gems?
You bet! The more time you spend in Nebraska, the more hidden gems you'll discover. Fortunately, we've done some of the research for you so you'll know exactly where to go! Some of the best hidden gems in Nebraska include Stromsburg, the Dairy Store, the Garden of Zodiac, Bailey Yard and the Golden Spike Tower, the town of Broken Bow, Prairie Peace Park, the town of Aurora, Kearney, and the R.F. Goeke store. Learn more about these hidden gems in Nebraska.
Where can I go in Nebraksa that only the locals know about?
For those inspired to experience Nebraska as the locals do, there are some destinations that will allow you to do just that. These places, which are a bit off the beaten path, are definitely worth the journey. They include Pine Valley Resort, the town of Whitney, Elmwood Park, the lost Ionia Volcano, the mysterious grotto near Old Market in Omaha, Sage Hill Vineyard & Winery, and Victoria Springs State Recreation Area. For more information on these places, check out our previous article: 12 Hidden Places In Nebraska Only Locals Know About.
Address: U.S. Highway 83, US-83, North Platte, NE, USA