This All-Day Float Trip Will Make Your Nebraska Summer Complete
Warm weather in Nebraska turns the focus to the water activities. There's nothing more Nebraskan than heading out to the river and hopping into a livestock tank for a leisurely all-day float. Yes, that's right, we said a livestock tank. While some of you who hear the words "all day float trip" and might picture a kayak or canoe, tubing in Nebraska is a little bit different. However, just because it's a different floating experience, doesn't mean it is any less exciting.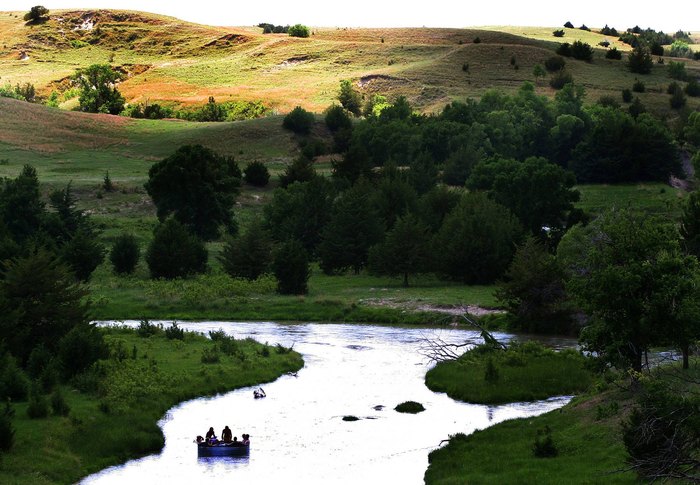 At the time of publication, prices for a float down the Middle Loup River are listed at $25 for adults and $10 for ages 12 and under. Kids under 6 can ride for free if they bring their own life jackets. This is a very affordable day out and one of the most memorable experiences you can have in the summer.
Address: 507 SW 1st Street, Mullen, NE 69152
Learn more about Glidden Canoe Rental (and its sister company, the Sandhills Motel) right here.
Have you ever taken this trip? Do you plan to go this year? Tell us all about it in the comments!
Address: Glidden Canoe Rental, 507 SW 1st St, Mullen, NE 69152, USA
Tubing in Nebraska
July 22, 2019
Where is the best place to go tubing in Nebraska?
Nebraska tubing is one of the most exciting summertime adventures you can have within the state. Beyond just floating on a river in a livestock trough, there are other kayak, tube, or canoe adventures to be had within the state. For example, a few of the best opportunities for Nebraska river tours can be had with a tube rental and a few friends. Some of the most favorable places to go tubing in Nebraska include Tubing & Adventures in Waterloo, Niobrara Adventures in Verdigre, and Riverwest Park in Elkhorn.
What else can I do besides tubing at the Dismal and the Middle Loop rivers?
There are so many other outdoor adventures to be had with various things to do in Nebraska, it doesn't all need to be about tubing. For instance, the Dismal and Middle Loop rivers have plenty of other opportunities for fun outside of just a good float. Fishing is always a welcomed pastime for Nebraska natives, as well as hiking, camping, or bird-watching. In fact, The Dismal River in Nebraska is over 70 miles long and has become an epic place for canoeists and other outdoor adventures to explore.
Does Nebraska have clean rivers? 
While the water quality in many states can be called into question, there are plenty of rivers in Nebraska that are clean and perfect for some outdoor adventures. Nebraska has some of the best water resources in the country, as well as the world, thanks to a few government-led programs. With over 430 square miles of lakes and 18,000 miles of continuously flowing rivers and streams, Nebraska is as good as it gets when it comes to clean water.
Address: Glidden Canoe Rental, 507 SW 1st St, Mullen, NE 69152, USA