3 Ridiculously Charming Train Rides To Take In Montana This Fall
Whether it's a quick scenic tour or the beginning of a vacation, traveling by train is extremely fun. And we just happen to have a few train rides here in the Treasure State that show off our beautiful fall colors. Make time in your schedule for one of these train rides in Montana before winter and see for yourself.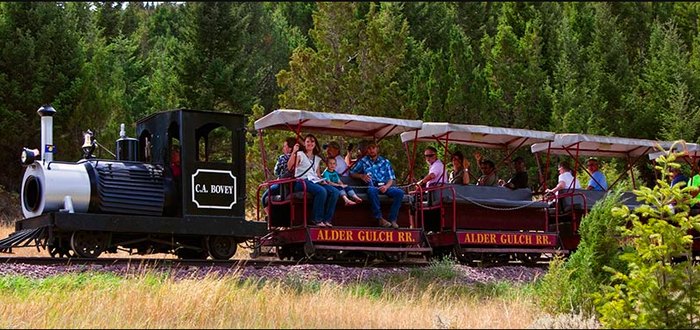 Trains play a big role in Montana's history. To see some of this history, lace up your boots for this Montana hike that takes you right through an abandoned train tunnel.
Address: 413 Wallace St, Virginia City, MT 59755, USA
Address: Whitefish Depot, 500 Depot St, Whitefish, MT 59937, USA
Address: Hanover Road, Hanover Rd, Montana 59457, USA
Fall Activities In Montana
September 06, 2022
What are the best fall hikes in Montana?
For lovers of hiking in Montana, there are so many awesome options to get out on the trail in the fall. We recommend stepping out on the stunning Sluice Boxes Trail in Sluice Boxes State Park. This hike is 2.8 miles and you will see so much along this trail. The views of limestone cliffs dotted with trees are made even more gorgeous when fall colors are at their peak. Keep an eye out for secret alcoves! If you are looking for easy hikes in Montana, may we suggest the Ousel Falls Park Trail. Clocking in at 1.6 miles, this trail is pretty doable for almost everybody, but with a breathtaking waterfall and tons of opportunities for leaf peeping, this easy trail certainly isn't short on looks.
When can I see peak fall foliage in Montana?
If you want to see the best of the changing leaves in Montana, there are a few prime spots that you have to check out. The adorable little city of Fort Benton is an ideal choice for leaf peeping. Officially named one of the 15 prettiest cities in America, it only becomes more beautiful as the leaves change.  We've even put together a Montana Fall foliage road trip for you so you can see every shade at every angle in under ten hours of driving.
What are the best fall day trips in Montana?
There are a ton of great day trips in Montana if you are looking for a little daycation. You can spot stalactites and stalagmites at the awe-inspiring Lewis and Clark Caverns. This area features over 300 caves! You'll feel as though you've walked into the pages of a fantasy novel as you explore these ancient and beautiful caves. You can only tour in early fall, but this is a great day trip to kick off the season.
Maybe you are looking for a slightly more urban day trip though. If so, then we invite you to explore Phillipsburg, Montana, where you can admire impressive architecture in many gorgeous shades, check out a charming soda fountain from days long past, and even mine for sapphires!
Address: 413 Wallace St, Virginia City, MT 59755, USA
Address: Whitefish Depot, 500 Depot St, Whitefish, MT 59937, USA
Address: Hanover Road, Hanover Rd, Montana 59457, USA