9 Epic Train Rides In Missouri That Will Give You An Unforgettable Experience
Missouri train rides are little hard to find these days, even with all of the beautiful scenery in the state. There are only a handful of regular trains in Missouri currently in operation, which are the first showcased below. However, in the interest of entertainment, we have included a few miniature trains in Missouri as well as two Missouri train rides that are rides in theme parks. While trains were once a major form of transportation for much of the population, today many of the trains run simply for tourism, entertainment, and to preserve train history.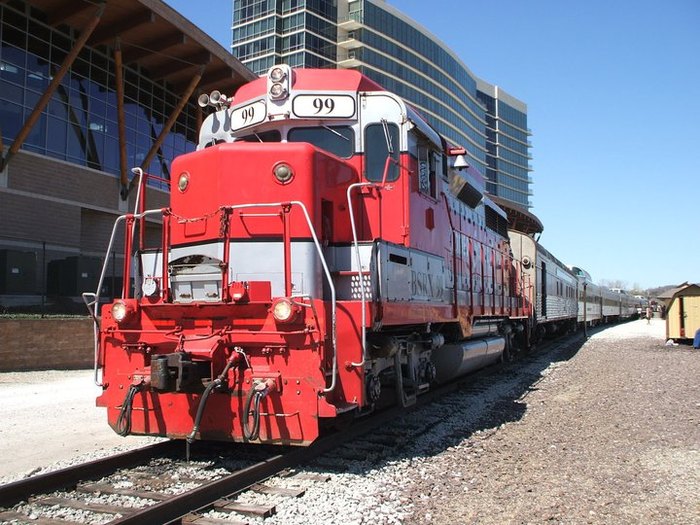 No matter which of these Missouri train rides you take or where it takes you, we can all agree that getting there is half the fun.  Are you a fan of trains in Missouri? Tell us!
Missouri train rides aren't the only way to have some railroad-related fun in the state. There's also this train museum in Missouri that's sure to delight railroad enthusiasts of all ages.
OnlyInYourState may earn compensation through affiliate links in this article.
Missouri Train Rides
September 15, 2022
What is the most popular train restaurant in Missouri?
Missouri train rides aren't the only way railroad enthusiasts can have some fun in The Show-Me State. There are also train-themed restaurants, like Fritz's Railroad Restaurant. A popular railroad-themed eatery, the restaurant has a couple of locations in Kansas and one in Kansas City, MO. Fun for train enthusiasts of all ages, the restaurant is decked out in train-themed décor, but that's not all. Patrons' meals are actually delivered via a signature overhead train. That's right; a mini train delivers food straight to the tables. Aside from the setting, it's the fare Fritz's is known for. Dating back decades, it should come as no surprise the eatery is famous for its old-fashioned burgers, which, by the way, are made with 100% choice ground beef and always cooked to order.
What are the oldest attractions in Missouri?
Trains in Missouri aren't the only way to experience a piece of the past. There are lots of historic attractions in Missouri, where you can immerse yourself in the past, including the Cathedral Basilica of St. Louis. Work on the impressively beautiful place of worship began back in 1905 and took more than a dozen architects and artisans to complete. Today, it's revered as a "one-of-a-kind work of art," attracting countless visitors year after year. In addition to the chapel itself, the grounds include a museum, which offers a glimpse into the history of the breathtaking church.