Missouri Has A Grand Canyon, The Little Grand Canyon And It's Incredibly Beautiful
Beautiful streams, rivers, and lakes, cities big and small, picturesque farmland — is there anything this state doesn't have? We even have our own version of the Grand Canyon, and it's a truly stunning sight. Affectionately named The Little Grand Canyon, Grand Gulf State Park might just be one of the most beautiful sights in the state, and that's saying something. If you're yearning for a bit of peace and quiet among nature, consider a visit to the Little Grand Canyon in Missouri. It's definitely one of those bucket list-worthy destinations.
Grand Gulf State Park's Little Grand Canyon
Located six miles west of Thayer about as far south in Missouri as you can go, before hitting Arkansas of course, Grand Gulf State Park is a sight you won't soon forget. Take a look at the Grand Gulf State Park photos and make plans to visit this incredible place.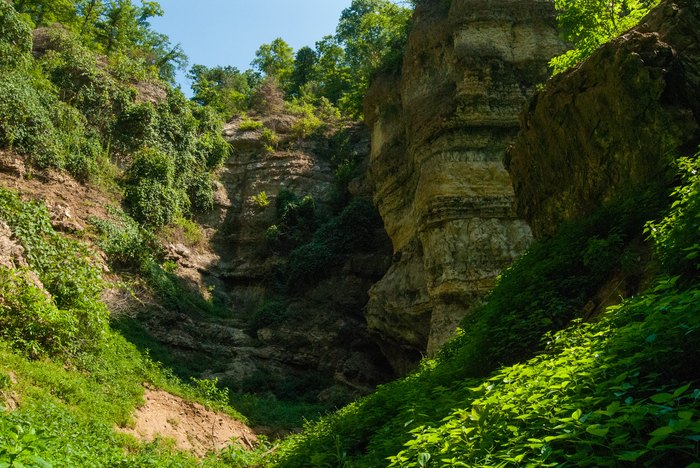 Natural Wonders In Grand Gulf State Park
Natural wonders abound in Missouri. After all, we live in a stunning state, brimming with natural beauty — from spectacular caves to breathtaking shut-ins, from beautiful caves to cascading waterfalls. Grand Gulf State Park in Koshkonong contains its own set of natural wonders including the Grand Gulf and its 250-foot natural bridge.
Hiking Trails In Grand Gulf State Park
This gorgeous state park is best explored on one of the two Grand Gulf State Park trails — the Interpretive Loop Trail or the Natural Bridge Trail. Together, the length equals about one mile. You may as well hike them both in that case, right?
Camping In Grand Gulf State Park
While there is no Grand Gulf State Park camping, there are camping options within an hour away. Here are a couple of options for you:
Have you ever visited the Grand Gulf State Park, the Missouri Grand Canyon? Share your experience in the comments. To learn more, visit the Missouri State Parks website.
For more amazing Missouri vistas, check out this little slice of paradise hiding in plain sight!
OnlyInYourState may earn compensation through affiliate links in this article. As an Amazon Associate, we earn from qualifying purchases.
More to Explore
Little Grand Canyon in Missouri
Where else can I find the best views in Missouri?
When it comes to scenic views, Missouri doesn't disappoint. The Show-Me State is full of unbelievable views, and if you're willing to do a little bit of exploration, you'll be rewarded tenfold with some jaw dropping scenery. Prairie State Park comes alive in the summer with countless wildflower blooms, turning the tall grass prairie into a beautiful color splash that attracts hundreds of visitors every year. For tree top views, Ha Ha Tonka State Park is ideal, and for those looking to explore the views underground, a trip to Onondaga Cave State Park is a must.
What are the most scenic hiking trails in Missouri?
Missouri's diverse terrain lends to some incredibly scenic hiking trails. Whether you're a weekend warrior looking to spend some time in the great outdoors, or you just have a few hours to kill, there are plenty of scenic hiking trails in Missouri that you're sure to love. The Old Kate Trail at the Parkville Nature Sanctuary will reward you with breathtaking views of the sanctuary's waterfall. For a peaceful hike with spectacular panoramic views of the Meramec River, head over to Castlewood State Park and take the 1.5-mile hike down the River Scene Trail. For wildlife viewing, the trails at Prairie State Park are your best bet to see free roaming American bison.
Are there any other natural wonders in Missouri?
If you're looking to check out some of Missouri's most fascinating natural wonders, you have plenty of options. Marvel Cave in Branson, Missouri offers both traditional tours and lantern-lit tours of the caves which allows you to see the caves from an entirely new perspective. Big Spring in the Ozark Mountains is one of the largest springs in the world, and on an average day, its average flow is roughly 286 million gallons of water. Finally, Elephant Rocks State Park has some impressive boulder formations that were formed from 1.5 billion-year-old granite.
Related Articles
Explore Missouri
Featured Addresses

Grand Gulf State Park, State Hwy W, Koshkonong, MO 65692, USA