Take A Carriage Ride Through A Magical Christmas Light Display At Celebration Of Lights In Missouri
Magical moments fill the Christmas season – from whispering wishes to Santa to singing Christmas carols on snowy evenings. Visiting Christmas light displays also promise an abundance of memorable moments. No matter how many light shows you've visited so far this season, you'll likely not find an experience as enchanting as climbing aboard a horse-drawn carriage and riding through the Celebration of Lights, the best Christmas lights in Missouri.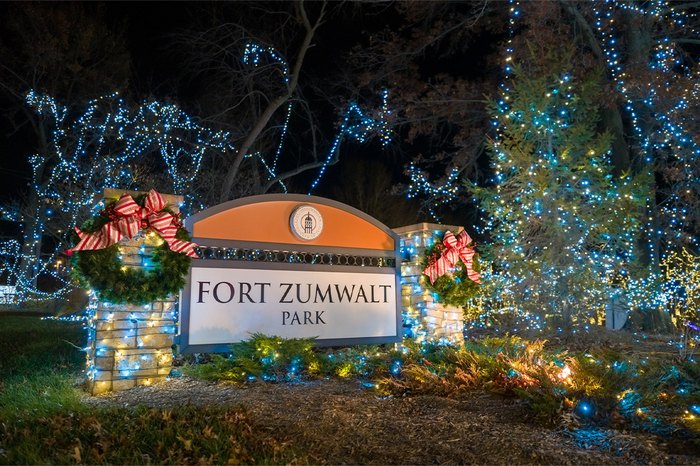 Have you taken a carriage ride through the Celebration of Lights, the best Christmas lights in Missouri? Which other Christmas horse and carriage rides have you done? Share your experiences with us by leaving a comment below!
Looking for more Christmas in Missouri content? Drive through the sensational Magic of Lights in Kansas City.
OnlyInYourState may earn compensation through affiliate links in this article.
Address: Fort Zumwalt Park, 1000 Jessup Dr W, O'Fallon, MO 63366, USA
best Christmas lights in Missouri
October 22, 2022
What's the best Christmas town in Missouri?
Saint Charles, which is arguably one of the state's most lovely little towns all year round, is transformed into a winter wonderland during Christmas time. It's great for holiday shopping and dining due to its attractive eateries and quant stores. The charming village, decked out in traditional holiday decorations, provides seasonal activities where guests can roast chestnuts over an open fire, take in traditional carolers' singing of Christmas songs, and ride in an antique horse-drawn carriage for a tour of the village.
What are some fun things to do during Christmas time in Missouri?
There are so many fun things to do around Christmas in Missouri, from holiday drives to light displays. Consider taking a delightful day trip or maybe a weekend trip to one of Missouri's most attractive Christmas towns. There is no better location for a holiday getaway than the adorable village of Noel. Also, bring your Christmas cards so you can add a special seasonal touch by having them postmarked "Noel." Explore Main Street in Historic Downtown St. Charles, which is lined with charming stores, unique restaurants, and holiday ornaments. Christmastime (and the rest of the year for that matter) are picture-perfect times to visit Hermann, Warrensburg, and Kimmswick.
What are some great road trips in Missouri?
There is possibly no better state than Missouri for road trips. What is even better is that you can just head out on any one of the many incredible highway road trips throughout Missouri all year long. On a road trip, you can see some of the most spectacular natural beauties by visiting well-known locations including Rocky Falls, Elephant Rocks State Park, and Grand Gulf State Park. If you enjoy all things supernatural, take the most spooky road trip in Missouri. You'll go to historic locations like Jefferson City's Governor's Mansion, Vaile Mansion, and Jesse James Farm & Museum.