A Secret Door Will Take You To An Underground Restaurant In Mississippi That Was Built In The 1800s
Step back in time to the world of speakeasies with a visit to The Gallows Bar in Mississippi, a basement-based eatery nestled in one of the state's oldest buildings. And just like a genuine speakeasy, it's somewhat hidden, which means you have to know where to look for it, only adding to the reasons it's one of the most unique bars in Mississippi.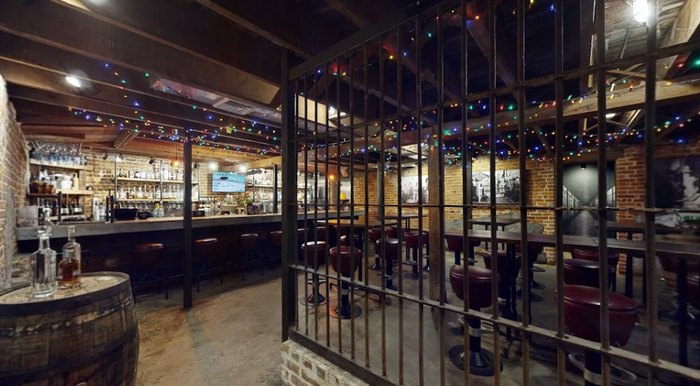 So, did you know about The Gallows Bar at Genna Benna's? Ever visited? If so, what'd you think of the setting? What about the fare? Would you rate it among the best bars in Mississippi? How does it fare as far as unique things to do in Mississippi go? We want to hear your thoughts.
This isn't the state's only historic underground restaurant. There's also the Julep Room in Ocean Springs. One of the most unique bars in Mississippi, during its heyday, it was no stranger to celebrities, including Billie Holiday and Elvis Presley.
OnlyInYourState may earn compensation through affiliate links in this article.
Address: The Gallows Bar, 104 Black St, Brandon, MS 39042, USA
Bars In Mississippi
May 15, 2023
Are there any other speakeasies or unique bars in Mississippi?
There are several one-of-a-kind watering holes in the Magnolia State. Here are a few of the most unique bars in Mississippi:
The Library Lounge - Situated inside the Chancellors House Hotel in Oxford, this upscale bar resembles an old library, complete with book-lined walls and vintage décor. It offers a refined setting for enjoying handcrafted cocktails and a selection of fine wines.
The Coop - A popular spot among college students, The Coop in Oxford is known for its relaxed atmosphere, outdoor seating – which includes a rooftop area - and a wide selection of beer and cocktails. It often features live music and trivia nights.
The Apothecary - Tucked away, in the back of Brent's Drugs in Jackson, The Apothecary, is a speakeasy-type lounge. Reminiscent of speakeasies of the past, The Apothecary features dim lighting, cozy booths, and knowledgeable bartenders.
What are some other unique things to do in Mississippi?
Mississippi offers a range of unique experiences and attractions that showcase its rich history, culture, and natural beauty. Here are some unique things to do in Mississippi:
Visit the Mississippi Delta - Explore the birthplace of blues music and immerse yourself in the cultural heritage of this region. Visit blues museums, attend live music performances, and explore iconic sites like the Delta Blues Museum in Clarksdale.
Explore the Natchez Trace Parkway - Drive or bike along the scenic Natchez Trace Parkway, a historic route that spans 444 miles through three states. Enjoy breathtaking views, stop at historical sites, hike nature trails, and discover Native American mounds along the way.
Experience the Mississippi River - Take a riverboat cruise along the mighty Mississippi River and witness the stunning landscapes and charming river towns. The Mississippi River Museum in Vicksburg offers an opportunity to learn about the river's history and ecosystem.