These 9 Charming Pumpkin Patches In Mississippi Are Picture Perfect For A Fall Day
One of the best things about fall (aside from the cooler weather, of course) is the seasonal fun that comes along with it, and that definitely includes a trip to a pumpkin patch or two. Luckily, there seems to be no shortage of pumpkin patches in Mississippi, and nowadays, most also offer corn mazes, hay rides, and games, making a visit perfect for the entire family. Here are a few of our favorite pumpkin farms in Mississippi that are worth seeking out this season: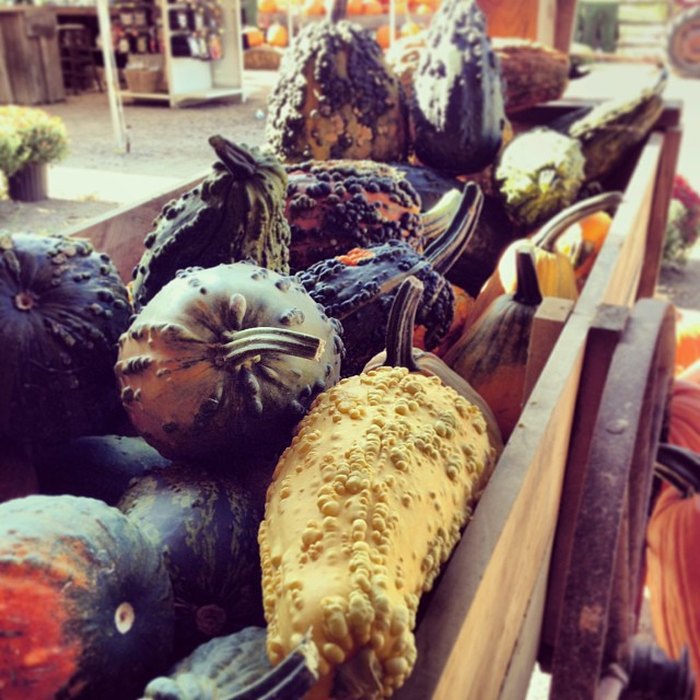 On or off the list, what's your favorite pumpkin patch in Mississippi? Share it with us in the comments below!
Looking for more seasonal fun? Be sure to check out 12 Unique Fall Festivals In Mississippi You Won't Find Anywhere Else.
Address: St Peter's Episcopal Church, 113 S 9th St, Oxford, MS 38655, USA
Address: Mitchell Road, Mitchell Rd, Mississippi, USA
Address: Courtney Farms, 810 Bienville Blvd #2845, Ocean Springs, MS 39564, USA
Address: Middleton Dairy Farm, 21500 Otis Cooper Rd, Moss Point, MS 39562, USA
Address: Bull Bottom Farms, 1641 Sayles Rd, Duck Hill, MS 38925, USA
Address: Pumpkin Patch Farms, 2390 Co Rd 805, Blue Mountain, MS 38610, USA
Address: Farmer Jim's Pumpkin Patch and Corn Maze, MS-16, Rolling Fork, MS 39159, USA
Address: Cedar Hill Farm, 8 Love Rd, Hernando, MS 38632, USA
Address: Southern Promiseland Farm, 1212 Raygan Ln, Kiln, MS 39556, USA
pumpkin patches in Mississippi
August 19, 2022
Where are the best places to see fall foliage in Mississippi?
One of the best things to do in the fall in Mississippi is to get outside and view the fall foliage. Typically, Mississippi will see the colors begin to change in mid-October and it will last until about the first week of November. Now, Mother Nature can change the rules whenever She pleases (and often does) so be sure to plan ahead and stay flexible so you don't miss out. Road trips through Mississippi are one of the best ways to see the fall foliage, but if you'd like to spend some time in a spot, consider heading over to Jeff Busby Park in Ackerman or Tishomingo State Park in Tishomingo. Both offer splendid views of the surrounding forests and at the latter, you can even check out several waterfalls which really add an extra layer of beauty to the endless sea of ambers, reds, and golds you'll see.
Which hiking trails in Mississippi are best in the fall?
There's nothing like hitting the trails in the fall when the air is crisp and the bugs are at bay. With hundreds of hiking trails in Mississippi that'll lead you to extraordinary places, it can be difficult to choose the best one. One of our favorites is the Little Mountain Trail in Jeff Busby Park. Not only is the trail less than a mile and a wonderful trail for our youngest nature lovers to enjoy, but it'll also lead you to the top of Little Mountain, the second highest point in Mississippi. The views are incredible, and it's easily one of the best views of the fall foliage along the Natchez Trace Parkway.
What are the scariest haunted houses in Mississippi?
After pumpkin picking in Mississippi, hitting the trails, and taking a leisurely leaf-peeping road trip, the only thing left to do in the fall in Mississippi is visit a haunted house and then you've successfully accomplished fall in Mississippi. Now, there are plenty of haunted houses in Mississippi that fall more into the supernatural side of haunted, like The Priestley House in downtown Canton and the Waverly Mansion in West Point, but if you're looking for more of a typical Halloween-style haunted house, look no further than Haunted Hill in Tupelo. They've been scaring the lights out of paid customers for over a decade, and they are consistently ranked as one of the nation's best haunted houses. Every year is a different theme, and the 2022 season is shaping up to be their spookiest ever!
Address: St Peter's Episcopal Church, 113 S 9th St, Oxford, MS 38655, USA
Address: Mitchell Road, Mitchell Rd, Mississippi, USA
Address: Courtney Farms, 810 Bienville Blvd #2845, Ocean Springs, MS 39564, USA
Address: Middleton Dairy Farm, 21500 Otis Cooper Rd, Moss Point, MS 39562, USA
Address: Bull Bottom Farms, 1641 Sayles Rd, Duck Hill, MS 38925, USA
Address: Pumpkin Patch Farms, 2390 Co Rd 805, Blue Mountain, MS 38610, USA
Address: Farmer Jim's Pumpkin Patch and Corn Maze, MS-16, Rolling Fork, MS 39159, USA
Address: Cedar Hill Farm, 8 Love Rd, Hernando, MS 38632, USA
Address: Southern Promiseland Farm, 1212 Raygan Ln, Kiln, MS 39556, USA