Take A Canopy Tour At Kerfoot Canopy Tour In Minnesota To See The Fall Colors Like Never Before
As if there weren't enough things to do in fall in Minnesota… In addition to fall foliage road trips, colorful train rides, and charming cider mills, there's one fall attraction that you don't want to miss this. A canopy tour with Minnesota Ziplines & Adventures will help you see the season's colors like never before. Kerfoot Canopy Tour is the best fall canopy tour in Minnesota and it's an outdoor adventure you won't want to miss out on this season.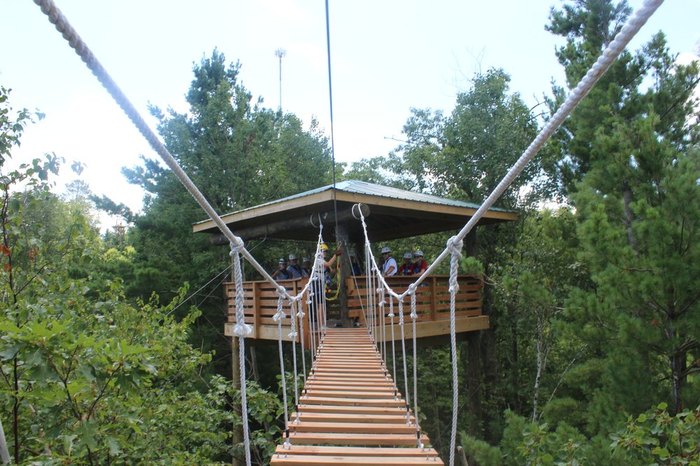 What do you think? Do you think this is the best place to see fall colors in Minnesota? Have you taken flight on the best fall canopy tour in Minnesota? If you're looking for even more treetop fun, check out our article about the stomach-dropping canopy walk you can only take in Minnesota.
OnlyInYourState may earn compensation through affiliate links in this article.
Address: Kerfoot Canopy Tour, 30200 Scenic Byway Rd, Henderson, MN 56044, USA
Best Fall Canopy Tour In Minnesota
September 21, 2019
What other places in Minnesota offer canopy tours or similar adventures?
There's nothing quite like an outdoor adventure in Minnesota. Our state offers year round excitement for all interests and abilities and you can easily cross so many thrilling excursions off your bucket list. If your idea of a fun day spent outdoors involves climbing and zipping through the trees, then Minnesota is the place to be. There are several treetop adventures that include that best fall canopy tour in Minnesota, as well as others. For a list of 8 of the best treetop experiences, check out our previous article here.
What is the best way to experience fall foliage in Minnesota?
The best place to see fall folors in Minnesota is likely not far from your front door. With parks, lakes, and farms scattered across the state, you can have a beautiful day in the fall foliage in a variety of ways. If fall is your favorite season in Minnesota, you may want to plan a trip to see some of the best and most scenic spots. We've done the planning for you; just check out our fall foliage road trip through Minnesota, featured in a previous article here.
What are the best hiking trails to take in the fall in Minnesota?
Fall hiking in Minnesota is another great way to see the vibrant colors of the season. There's nothing better than time spent outside on a crisp, fall day. Of course you can spend an entire day traversing a long, challenging trail, or perhaps you prefer ones that are short and sweet. For a list of 11 of these short and scenic trails, check out our previous article here.