Minnesota's Boundary Waters Look Even More Spectacular In the Winter
Even in the Land of 10,000 Lakes, it's easy to forget the immense beauty of Minnesota's bodies of water – especially in winter. During this season, the sparkling lakes turn into snow-covered expanses that blend into the surrounding environment. This is true for much of Minnesota. But way up north, in the Boundary Waters Canoe Area Wilderness, the icy lakes and wintry forests combine into an unforgettable expanse of snow-covered beauty. The Boundary Waters is always spectacular with wild beauty, and that is doubly true when the weather gets cold. Read on below to learn more about what you'll find in the Boundary Winters and some of the winter recreation in Minnesota you can expect here: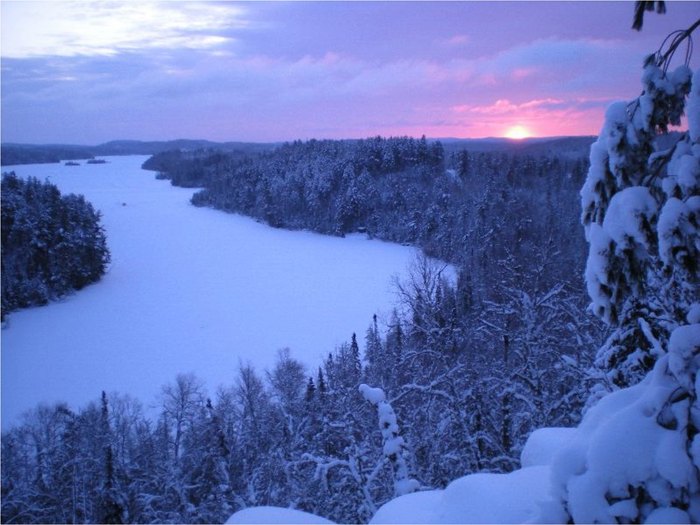 Have you ever visited Minnesota's Boundary Waters Canoe Area Wilderness in winter? It's one of the most spectacular places for winter recreation in Minnesota! For more information about visiting the area year-round, take a look at the Boundary Waters page on the U.S. Forest Service website, or at the Friends of the Boundary Waters Wilderness website and Facebook page.
And if you're not quite ready to venture into the Boundary Waters, consider a trip to see the snow-covered beauty at nearby Bear Head Lake State Park.
Address: Boundary Waters Canoe Area Wilderness, Ely, MN 55731, USA
Best Winter Hikes In Minnesota
January 28, 2022
What are the best places for cold weather hiking in Minnesota?
Beautiful Banning State Park offers plenty of trails, some of which are perfect for hiking year-round. Some lead to the river while others lead to a waterfall. No matter where you hike in the park, it's sure to be a spectacular sight all covered in snow, so make sure you bring your camera!
What are some of the best winter outdoor activities in Minnesota?
Have you ever gone go-karting on ice? Have your chance this winter in Stillwater, Minnesota with Epic Karting. Take a gas-powered go-kart out for a spin on the icy outdoor track for a one-of-a-kind experience you are sure to love! If you would rather go hiking, how about taking a trail to a frozen waterfall? You won't see anything quite as scenic at Banning State Park! If you enjoy snow tubing, grab your friends or your family and hit the tubing run at Buck Hill in Burnsville. With its 12 tubing lanes, you won't have to wait long for a ride down the hill!
Where can I stay at a cozy cabin in the winter in Minnesota?
We all need a getaway from time to time, especially in the winter. While taking a weekend away won't give us enough time for a tropical vacation, we can at least spend a night or two in a cozy cabin surrounded by nature. Check out this tiny Airbnb cabin with its fireplace and rustic feel, perfect for a stay this time of year. Big Bear Lodge in Grand Marais also offers cozy cabins to stay at and several amenities so you'll have a comfortable stay.
Address: Boundary Waters Canoe Area Wilderness, Ely, MN 55731, USA