8 Amazing Flea Markets In Minnesota You Absolutely Have To Visit
Most of us enjoy shopping, but sometimes it can get a little boring to look at things that have just hit the shelves. The best solution to this problem? Spend a few hours digging for buried treasure at a flea market. There's something so rewarding about spending time combing through a collection of unexpected treasures, don't you think? Luckily, Minnesota has many excellent flea markets to choose from. Whether you want rare antiques, vintage goodies, or repurposed treasures, you can find what you're looking for when you visit any of the following places. One thing's for sure: you'll want to clear out your car and pack plenty of bags in anticipation of all the unique finds! Without further ado, here are some of the very best flea markets in Minnesota.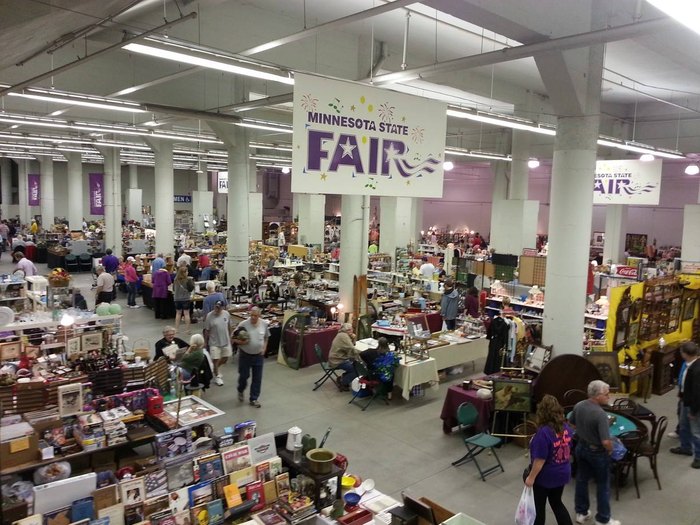 Ever been to any of these flea markets? Do you agree that these are some of the best flea markets in Minnesota? Let us know your greatest find! And, if you're looking for more even places to start your flea market bargain hunt, check out these 10 must-visit flea markets in Minnesota. Another incredible flea market in Minnesota worth checking out is known as Shady Hollow Fea Market. It's one of the largest flea markets in Minnesota and can be found in Detroit Lakes, which is about 200 miles northwest of Minneapolis.
Do you have any other recommendations for us, shopping or otherwise? If so, feel free to fill out our nomination form to share some of your favorite hidden gems in Minnesota — we'd love to hear from you!
OnlyInYourState may earn compensation through affiliate links in this article.
best flea markets in Minnesota
September 24, 2021
Are there any other flea shops in Minnesota I should visit?
You bet! The above list of the best flea markets in Minnesota barely scratched the surface of all the unique vintage shopping opportunities you'll find in this great state. Another place you should add to your itinerary is known as the Elko Traders Market. Located approximately 30 miles south of Twin Cities, this enormous flea market takes place just three times a year: typically, over Memorial Day, Labor Day, a weekend in July, and then Labor Day. As you can imagine, a flea market of this size tends to draw some impressive crowds, so be sure to arrive early if possible. The flea market is most famous for its collection of vintage and antique furniture. You may want to clean out your car before visiting, as you'll need lots of room to take home your treasures! For more information on the Elko Traders Market, you can visit the official website.
Do you love going thrift shopping? If so, we've put together a custom itinerary for exploring the best thrift stores in Minnesota. It's called the Bargain Hunters Road Trip, and it won't disappoint! Some stops along the way include the Goodwill Outlet in St. Paul, New Day Thrift Store in Little Canada, Family Pathways in Forest Lake, Recycled Wardrobes Thrift Shop in North Branch, Shalom Thrift Shop in Cambridge, Tusen Tack in Braham, and New Horizon Thrift Store in Pine City.
Does Minnesota have any farmer's markets?
If you're someone who loves spending the weekend at a farmer's market, you'll be delighted to hear that there are plenty of them to enjoy here in Minnesota. Some of the best include the St. Paul Farmer's Market, Minneapolis Farmer's Market, Hopkins Farmer's Market, Duluth Farmer's Market, Richfield Farmer's Market, Midtown Farmer's Market, Winona Farmer's Market, Stillwater Farmer's Market, Rochester Farmer's Market, Red Wing Area Farmer's Market, and the Northeast Minneapolis Farmer's Market. Learn more about planning a visit to any of these incredible farmer's markets in Minnesota.
If you only have time to visit one farmer's market in Minnesota, we'd recommend Doehling's Countryside Farm Market. This enormous market in Minnetonka has been in operation since 1987. It's also family-owned and family-operated, meaning quality is king here. The market is especially popular in the spring and summertime when there's an abundance of flowers and fresh produce to buy. And during the fall season, you can pick out your very own pumpkin to take home. Learn more about what makes this seasonal farm market in Minnesota so special.
Where can I go in Minnesota that only the locals know about?
Minnesota is a vast state, and you'll be amazed by just how many hidden gems and little-known places are tucked away here. After experiencing some of the state's top attractions, such as Voyageurs National Park, the Minneapolis Institute of Art, Walker Art Center, the Boundary Waters Canoe Area Wilderness, and Minnehaha Falls, you might be curious to learn about some lesser-known spots. The following is a list of hidden places in Minnesota that only the locals know about: Redwood Falls, Hidden Falls Regional Park, Prothero's Post Resort, Spicer Castle Inn & Restaurant, Flandrau State Park, Eddy Falls, the Tiny Mouse Doors street art you'll find throughout Minneapolis, Normandale Japanese Garden, Two Harbors, Winona Boathouse Neighborhood, Cuyuna Country State Recreation Area, and the Minnesota Streetcar Museum. Learn more about these fascinating hidden places in Minnesota.
OnlyInYourState may earn compensation through affiliate links in this article.