Posted in Detroit
February 15, 2023
The Old Fashioned Drive-In Restaurant Near Detroit That Hasn't Changed In Decades
There's something comforting about dining at restaurants in Detroit that have remained unchanged for generations. After all, many of us long for simpler times, and there's one eatery near the Motor City that will make you feel as if you've been swept away into the past. When you're ready to experience a friendly, no-frills atmosphere and some of the most delicious eats imaginable, check out this fun spot. Please note that Bill's Drive In is a seasonal, summertime restaurant.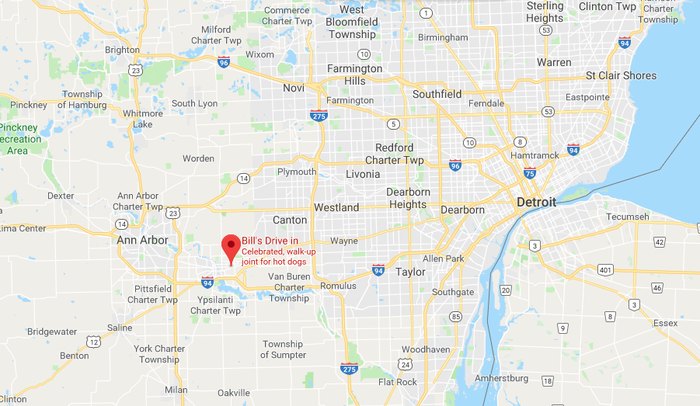 For more information about Bill's Drive-In, check out the restaurant's Facebook Page. Have you made the journey to this awesome spot in years past? Would you agree that it is one of the most unique places to eat in Detroit? If so, we'd love it if you would share your favorite eats and memories with us in the comment section below!
Still hungry for more stuff from "Bill?" This is a different proprietor, but it is a delicious adventure at Bill's Steak House in Bronson! 
In a complete 180, if you're into the paranormal, be sure to visit the Haunted Dorr E. Felt Mansion just outside of Holland:
OnlyInYourState may earn compensation through affiliate links in this article.
Address: Bill's Drive in, 1292 E Michigan Ave, Ypsilanti, MI 48198, USA
Places to Eat in Michigan
February 20, 2023
Where can we find famous restaurants in Detroit?
Giovanni's Ristorante is known for its outstanding, authentic Italian fare.
Green Dot Stables is known for their excellent poutine and sliders.
Joe Muer Seafood has been an area staple since 1929 and is the place for to enjoy a fine dining experience.
Read on to learn about famous restaurants in Detroit.
Where can we find steakhouses in Michigan?
Diamonds Steak and Seafood in Howell serves amazing steaks, seafood, and other fare in an elegant yet welcoming setting.
The Grill House in Allegan is sort of a DIY place, as it let's you grill your own steak.
Foggy's Steakhouse & Lounge in Christmas (yes, that's the name of the town!) serves great steaks as well as a variety of locally brewed beer.
Read on to learn about other steakhouses in Michigan.
Where can we find the best ice cream in Michigan?
Washtenaw Dairy in Ann Arbor has been an area favorite and a local landmark for for over 86 years. In addition to ice cream, they are known for the fantastic donuts.
The MSU Dairy Store in East Lansing is unique in that it is on the campus of Michigan State University.
Captain Sundae in Holland features nautical-themed ice cream creations.
Read on to learn about more of the best ice cream in Michigan.