Over 40 Years Ago, Massachusetts Was Hit With The Worst Blizzard In History
While the Bay State is typically home to some notoriously bad winters, we can be thankful that it could always be worse! Winter in Massachusetts has brought some incredibly harsh snow storms, but one storm back in '78 is amongst one of the worst. Reaching almost 30 inches of snow and injuring over 4,000 people, the weather event of February 1978 will go down in history as one of the worst blizzards in Massachusetts. Once you learn about the infamous Northeastern blizzard of '78 and recall this record snowfall in Massachusetts, you won't complain about snow ever again.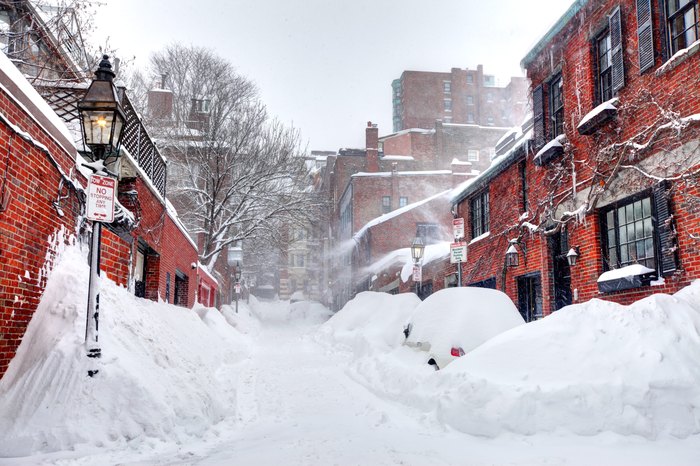 Do you remember the record-breaking Blizzard of 1978 in Massachusetts? Have you heard stories from family members about their experiences getting through a harsh winter in Massachusetts? We'd love to hear your thoughts and experiences in the comments!
And, don't forget to share your own winter photos with us in our Massachusetts Nature Lovers group on Facebook, or by tagging us at #onlyinmassachusetts on Instagram for a chance to be featured! We'd especially love to see your photos of record snowfall in Massachusetts!
OnlyInYourState may earn compensation through affiliate links in this article.
Blizzard of 1978 in Massachusetts
December 14, 2021
What was the biggest snowfall in Massachusetts?
It might seem as though every winter in Massachusetts brings the most snowfall, but in reality we do get some breaks. However, the winter of 2013 was definitely not one of those breaks! With a total of 27.6 inches of snow, the record snowfall in Massachusetts that took place on February 17th and 18th just narrowly surpassed the 27.1 inches seen by the end of the Blizzard of 1978 in Massachusetts.
What will winter be like in Massachusetts this year?
While it can be hard to predict what winter in Massachusetts will bring each year, we like turning to the Farmers' Almanac for some clues. This resource has been helping people across the country get ready for weather throughout the year since 1818. If you happen to read this in 2021, we're expecting to see temperature that are colder than normal in the state with snow storms hitting in January when winter in Massachusetts is in full-swing.
Is Massachusetts a good place to visit in the winter?
It might surprise you to read that winter in Massachusetts is actually fantastic! There are tons of activity options throughout the state, including skiing, snow tubing and hiking. Despite all the inclement weather we've told you about, rest assured that blizzards in Massachusetts aren't the norm. Most months see weather that allows for plenty of outdoor activities. Love hiking? Consider visiting a place like Bash Bish Falls which is especially gorgeous in the winter.
.
OnlyInYourState may earn compensation through affiliate links in this article.