Take The Massachusetts Brewery Trail For A Weekend You'll Never Forget
It seems like there's never been a better time to be a craft beer fan. With new breweries popping up left and right, you have your pick of awesome taprooms to check out in the Bay State. In fact, you can even embark on a weekend Massachusetts brewery road trip adventure.
The total drive-time of this brewery trail is about 5 hours. You can check out the route and get driving directions here.
Although there are plenty more Massachusetts breweries than the ones listed here, we've hand-picked these for an easy road trip.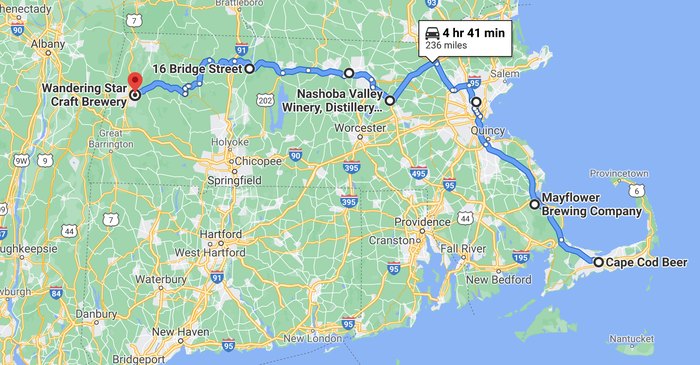 What's your favorite brewery in Massachusetts? Share and let us know in the comments. For more tasty beer in the Bay State, check out this hidden farm brewery.
OnlyInYourState may earn compensation through affiliate links in this article.
Address: 1336 Phinneys Ln, Hyannis, MA 02601, USA
Address: 12 Resnik Rd, Plymouth, MA 02360, USA
Address: 11 Gifford St, Pittsfield, MA 01201, USA
Address: 30 Bridge St, Millers Falls, MA 01349, USA
Address: 175 State Rd E, Westminster, MA 01473, USA
Address: 100 Wattaquadock Hill Rd, Bolton, MA 01740, USA
Address: 89 Commercial St, Malden, MA 02148, USA
Massachusetts Brewery Road Trip
February 16, 2021
What other breweries can I visit in Massachusetts?
Breweries are aplenty throughout the Bay State, found in both the big cities and the smallest of towns. The most famous breweries in the state are Sam Adams and Harpoon, and you'll have to head to Boston to visit them. These companies sell their brews around the country and are recognized nationwide. Then there's the highly-rated Trillium Brewing Company located in Canton. Founded in 2013 with the concept of a New England farmhouse brewery that uses mostly locally-sourced ingredients, Trillium has already won awards for its brews. You can read more about Trillium in our previous article, This Homegrown Massachusetts Brewery Was Just Named Among The Best On Earth.
Where can I find the best craft beer in Massachusetts?
Aside from Trillium Brewing Company, you may want to check out Spencer Brewery which happens to be the country's first brewery run by a community of Trappist monks. Aside from that unusual fact, they make some incredible beer. Try one of their craft brews like Monks' IPA or Trappist Imperial Stout. Learn more about the unique Spencer Brewery in our previous article here. You may find other interesting craft beers at Medusa Brewing Company located in Hudson. You will love the experience of drinking one of their craft beers out of the colorful art cans. Try the Laser Cat Imperial IPA or Bone City Lager. Read more about Medusa Brewing here.
What foodie trails can I take in Massachusetts?
Massachusetts has so many incredible restaurants that it may be hard to decide where to go sometimes. From some of the best Italian to some of the best seafood restaurants in the country, there's no shortage of places to dine. Here is a previous article we wrote that features a list of some of the best restaurants around the Bay State: 14 Restaurants You Have To Visit In Massachusetts Before You Die.
OnlyInYourState may earn compensation through affiliate links in this article.
Address: 1336 Phinneys Ln, Hyannis, MA 02601, USA
Address: 12 Resnik Rd, Plymouth, MA 02360, USA
Address: 11 Gifford St, Pittsfield, MA 01201, USA
Address: 30 Bridge St, Millers Falls, MA 01349, USA
Address: 175 State Rd E, Westminster, MA 01473, USA
Address: 100 Wattaquadock Hill Rd, Bolton, MA 01740, USA
Address: 89 Commercial St, Malden, MA 02148, USA