The Great Blizzard Of 1888 Dumped 50 Inches Of Snow On Massachusetts
Winter in Massachusetts can be rough, but nowadays, we have the infrastructure and tools to clean up the streets and keep Bay Staters safe during a winter storm. However, that wasn't the case in 1888 when a devastating nor'easter tragically struck the East Coast. This massive blizzard is said to have been the worst snowstorm in Massachusetts history, claiming 400 lives and producing incredible snow totals of up to 50 inches in Massachusetts. The Great Blizzard of 1888 was anything but "great" – it was the worst "white hurricane" Massachusetts has ever experienced, and the deadliest blizzard in U.S. history.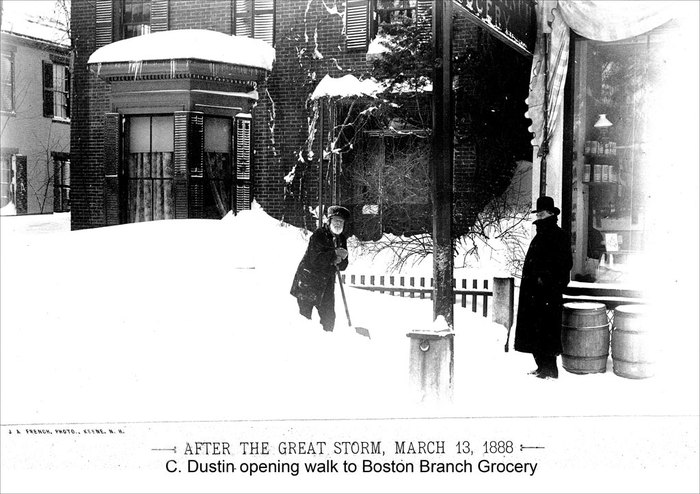 Did you know about the Great Blizzard of 1888? Can you imagine experiencing 50 inches of snow outside your house? We'd love to hear your thoughts in the comment section! While this blizzard was the worst Massachusetts has seen in terms of loss of life, here are 10 more terrifying blizzards and hurricanes in Massachusetts history to learn about…if you dare.
Address: Massachusetts, USA
OnlyInYourState may earn compensation through affiliate links in this article.
Great Blizzard of 1888 in Massachusetts
December 02, 2021
What is winter in Massachusetts like?  
In a couple of words? Really, really cold! One thing is for sure: Massachusetts is one of those states that are definitely ideal for folks who love winter, because the ones here can be pretty gnarly. On average, the state sees about 51 inches of snowfall per year; central and northeastern Massachusetts tend to get hit the hardest. However, should you be nearby the coast, winters are a little less brutal, though still pretty darn cold. Temperatures seem to stay at or below freezing for the most part, with nights obviously being colder than daytime temps. Winter storms are not uncommon, and things like Nor'easters can really throw a wrench into just about anyone's winter plans. Of course, this means for many that there's just that much more sledding, snowball fighting, or other shenanigans they can get into with the fluffy white stuff. For some of our favorite activities you can do during our wonderful (if not chilly) winters, check this article out! 
What were the worst snowstorms in Massachusetts?  
Massachusetts has certainly had its fair share of totally-bonkers winters, complete with gnarly snowstorms and crazy, record-breaking examples of just how intense winter can be on the east coast at times. Some of the most notable storms, however, include ones like the February 2013 storm that brought 27.6 inches of snow, the February 1978 storm that dropped 27.1 inches of snow, and the February 1969 storm that dropped 26.3 inches of snow. It's worth noting – and perhaps in this paragraph it's made obvious – that the busiest month for snow in Massachusetts is February. In fact, out of the ten worst snowstorms in our state's history, five of those took place in February alone. Some year, however, see even more than the average, like the winters of 2014/15, 2004/05, and 2010/11.  
Address: Massachusetts, USA
OnlyInYourState may earn compensation through affiliate links in this article.