Everyone In Massachusetts Should See What's Inside The Gates Of This Abandoned 1950s Neighborhood
Even many locals don't know about the North Truro Air Force Station: an abandoned neighborhood in Massachusetts. Due to hazardous chemicals, parts of this abandoned neighborhood have been left untouched since the Cold War. But it's not all dangerous. Here's how you can explore this creepy place it for yourself.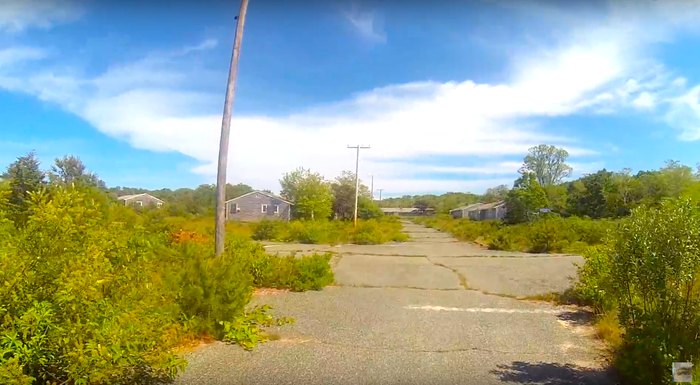 Get more information at the National Park Service website and find out more about visiting. Check out this awesome exploration video from YouTube channel "Exploring with Josh."
The North Truro Airforce Station (now the Highlands Center) is located off of Route 6 at the Highland Light Exit in North Truro, Massachusetts. Turn right off of the exit onto Highland Road and continue on for about 0.6 miles before turning left onto Old Dewline Road. You'll find the entrance at the end of the road.
Have you ever been to this 1950s abandoned neighborhood in Massachusetts? Share your experience in the comments! If you're up for more exploration, head to Dogtown in Gloucester.
OnlyInYourState may earn compensation through affiliate links in this article.
Address: Highlands Center at Cape Cod National Seashore, Old Dewline Rd, Provincetown, MA 02657, USA
Abandoned 1950s Neighborhood In Massachusetts
January 19, 2021
Are there other abandoned places in Massachusetts I can visit?
Because it's brimming with history, abandoned places in Massachusetts are pretty commonplace. You can even go on a road trip that will take you to some of the most abandoned spots in the state. Start your adventure at Clinton Railroad Tunnel which was built at the site of a burial ground. To build the tunnel, however, the town had to move more than 4,000 graves to another site. Today, the site is said to be haunted by some of those souls. Other abandoned spots in Massachusetts include the Franklin Park Zoo Bear Cages in Boston and Dogtown in Gloucester.
What are the creepiest places in Massachusetts?
Cemeteries are usually peaceful places, where families can go to visit loved ones in their final resting place. Some cemeteries, however, are downright creepy (usually because they're haunted). If you want to increase your chances of experiencing the paranormal, visit Central Burying Ground's graveyard in Boston. It dates back to 1756, making it one of the oldest cemeteries in the United States. Don't be surprised, for example, if you catch a glimpse of apparitions wearing British military uniforms. You might even hear strange noises or be approached by a glowing apparition.
Can I hike to abandoned places in Massachusetts?
One of the best ways to explore the abandoned and creepy places in Massachusetts is by going on a leisurely hike. In fact, you can even take a hike to what looks like an abandoned castle in Boston. It sits atop Schoolmaster Hill in Franklin Park. For an incredibly unique experience, head over to The Becket Land Trust Historic Quarry and Forest. There, stroll through the forest where you'll get an up-close look at old and abandoned automobiles and buildings, many dating back more than 100 years. Don't forget your camera, because you'll also be treated to sweeping views of the Berkshires.