Most People Don't Know These 11 Movies Were Filmed In Maine
We've talked about famous people who live in Maine. Although many of these people started out in Maine, they quickly relocated to New York City or Hollywood to really allow their careers to take off. The more I think about it, the more I believe Maine is deserving of much more credit, especially since so many movies have been filmed here. If you've ever wondered what movies were filmed in Maine, wonder no more. Listed below are 11 of them. Sure, some of them were much more successful than others, but all of them immortalized our state on the big screen. So, what are you waiting for? Read on to learn about movies shot in Maine!
1. "In the Bedroom": Belfast, Owls Head, Old Orchard Beach, Camden, Rockland, Rockport, Trevett, Wiscasset, 2001

One of my favorite films, this movie gets Maine exactly right. Both are set and entirely filmed in Maine, even the title is a reference to our state's favorite career. If you know what that reference is, let us know in the following comments section.
2. "Forrest Gump": Marshal Point Light, 1994

Forrest's epic run across the country has him pounding the pavement to Marshal Point Light in Port Clyde. The film has grossed about $557 million, which is incredible compared to the $55 million it took to make it.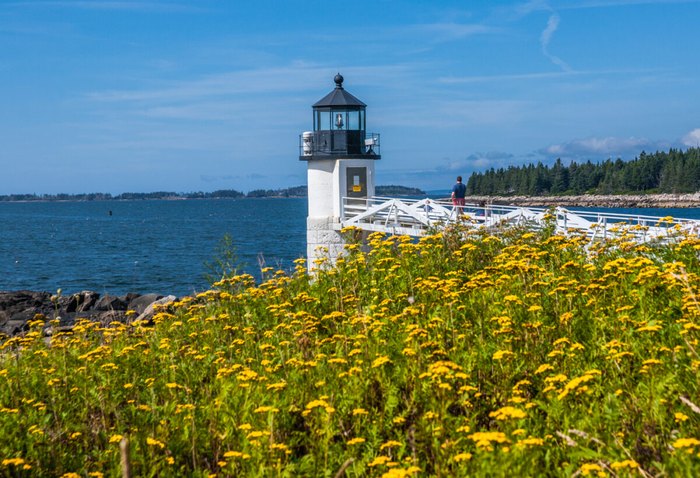 3. "The Preacher's Wife": Portland, 1996

Directed by Penny Marshall and starring Denzel Washington and Whitney Houston, parts of this flick were filmed in Portland. It wasn't met with great reviews, but it's worth a watch to remember the talent that is Houston. This film grossed about $48 million, only $8 million more than the cost to make it.
4. "Pet Sematary": Bangor, Bucksport, Hancock, Ellsworth, and Acadia, 1989

This Stephen King masterpiece might be the most well-known movie filmed in Maine. With on-set locations throughout the state, watching it is like watching a tourism video if Maine tourism videos included the scariest scenes of all time. Pet Sematary grossed about $57 million and cost roughly $11 million to make.
5. "Carousel": Boothbay Harbor, Augusta, Camden, Newcastle, 1956

A film adaptation of the stage production, this movie shot in Maine didn't do as well as its soundtrack did at the time of release. Another fun fact? Shirley Jones was only four years older than the actress who played her 15-year-old daughter.
6. "Jumanji": Kennebunk, North Berwick, 1995

One of the best characters played by the late, great Robin Williams, Alan Parrish is released from the board game when two children begin playing with it. The exterior of the Parrish shoe factory was filmed at the Hurd Mill in North Berwick, Maine. The building was once a prosperous mill that made wool products, but it had been empty for many years.
7. "The Cider House Rules": Mount Desert Island, Bass Harbor, 2000

While the fictional town of St. Cloud in Maine is not actually in Maine, parts of this movie filmed in Maine were shot along the coast. I wonder if Charlize Theron had a lobster roll while here. Despite the fact that the entire movie was not filmed here, I'm sure at least a few of you tuck your kids in by saying, "Goodnight, you princes of Maine, you kings of New England."
8. "Casper": Rockport, 1995
Starring Bill Pullman and Christina Ricci, the majority of "Casper" is set in Friendship, but it was filmed in nearby Rockport due to its "more authentic" feel according to the crew.
9. "Message in a Bottle": Bath, New Harbor, Portland, Phippsburg, 1999

Here's a fun fact about this movie that was filmed in Maine: The hometown of Costner's character, Garrett, is Popham Beach. The crew identified a seasonal home that was perfect for the film and undertook over $250,000 of renovations to make it work for the movie. However, at the close of filming, the owner requested that it be restored to its original, pre-film state, which cost the crew almost as much.
10. "Shutter Island": Bar Harbor, 2010

This Martin Scorsese film starred a very believable Leonardo DiCaprio as a federal marshal. The scene where he climbs across rocks over the ocean was filmed at Acadia National Park.
11. "Head Above Water": Phippsburg, 1996

This film, starring Harvey Keitel and Cameron Diaz, is an oldie, but goodie. And, most importantly, it was filmed almost entirely in Phippsburg. This movie is based on a Norwegian film in which the main female character is topless for at least half of her on-screen time. That wasn't exactly the case here in the United States.
Do you live near any of these filming spots in Maine? Or better yet, were you able to watch any of these movies filmed in Maine? If so, let us know in the comments below. Also, if you can think of any other movies shot in Maine, feel free to share those as well.
OnlyInYourState may earn compensation through affiliate links in this article. As an Amazon Associate, we earn from qualifying purchases.
More to Explore
What movies were filmed in Maine?
What three famous movies filmed in Maine are some of the best movies ever made?
There have been several movies made in Maine. Whether you're a fan of comedies and dramas, or actions and horrors, chances are, one of your favorite movies was filmed here in The Pine Tree State. Listed below are three famous movies filmed in Maine that are some of the best films ever made. And who knows? One of them might even be one of your favorites.
1. "Forrest Gump"
"Forrest Gump" is an award-winning movie starring Academy Award winner Tom Hanks. Released in 1994, this comedy-drama film is based on a novel by Winston Groom. It tells the life of Forrest Gump, a slow-witted man from Alabama. You can see Maine's Marshall Point Lighthouse during Forrest's run across the country. While in theaters, "Forrest Gump" earned $678.2 million worldwide, making it one of the top-grossing films of all time.
2. "Message in a Bottle"

"Message in a Bottle" is a romantic drama film that's based on Nicholas Sparks' novel of the same name. Released in 1999, it stars Kevin Costner and Robin Wright Penn. "Message in a Bottle" was filmed at a few Maine locations, including Popham Beach in Phippsburg and in the town of Bath.
3. "Jumanji"
"Jumanji" is a fantasy adventure film that stars the late Robin Williams. It's one of his most popular movies. "Jumanji" is based on a board game where jungle animals and Alan Parrish (Robin Williams), a young boy who became trapped in the game in 1969, are released when two children find it in the attic and start playing it. "Jumanji" was filmed in parts of North Berwick, Maine, and Kennebunk, Maine.
What's one of the most popular movies filmed in Maine?
There have been a variety of movies filmed in Maine. While many of them are well-known, others aren't. One of the most popular movies filmed in Maine is Pet Sematary. Based on the novel by Stephen King, Pet Sematary is a horror film that was released in 1989. The original house used in the film is located in Hancock, Maine, and the cemetery in the film is located in Bangor, Maine.
Related Articles