Discover Jordan Pond House Restaurant, An Unforgettable Watering Hole Tucked Away Inside Of Maine's National Park
There's no shortage of options when it comes to dining with incredible views here in Maine. However, most people assume those views need to be of the ocean. Of course, with the incredible coastline you'll find here, it's no wonder why we flock to the water. But there are plenty of spectacular dining views throughout the state that are well worth exploring. This one, tucked away within a famous national park to visit in Maine, is a beloved favorite and it's so worth checking out — even if you're not looking for an outdoor adventure.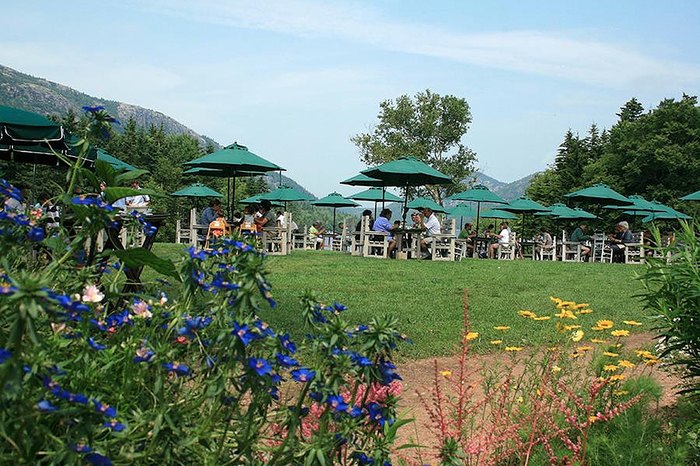 You might have solely been searching for a national park to visit in Maine, but this restaurant sweetens the deal with its marvelous views and awesome cuisine. If you're eager to learn more about Jordan Pond House Restaurant and its many tantalizing menu options, check out the eatery's official website. Have you dined here during previous visits to Acadia National Park? Share your experiences with us in the Facebook comments or recommend your favorite outdoor attraction in Maine by completing our nomination form.
Vacationland is chock full of beauty and great food. For more experiences like this, check out these 10 restaurants in Maine that offer jaw-dropping views while you eat.
OnlyInYourState may earn compensation through affiliate links in this article.
Address: Jordan Pond House Restaurant, 2928 Park Loop Rd, Seal Harbor, ME 04675, USA
National Park To Visit In Maine
February 23, 2022
Are there any other beautiful parks in Maine?
While Acadia National Park is likely the most famous of Maine's parks, it's certainly not alone in its natural beauty and recreational offerings. After all, there are an impressive 32 state parks in Maine and approximately 500,000 acres of land to appreciate. While we think each and every destination has something worth checking out, here are a dozen of our favorite state parks in Maine that deserve a spot on your in-state bucket list. 
What are some of the best outdoor attractions in Maine?
Maine is a wonderland for those who love spending time in the great outdoors, whether you prefer to hike, bike, swim, fish, boat, camp, or simply relax along the rugged shoreline. Our bucket list for Mainers who are obsessed with nature offers a little something for everyone. Whether you're adventuring along the Bar Harbor Island Trail, cooling off at Houston Brook Falls, or boating at Megunticook Lake, you'll find something to keep you smiling. 
Are there any iconic restaurants in Maine?
Now that you're familiar with Jordan Pond House Restaurant, you might wonder whether there are any other must-visit restaurants in Maine. The answer is a resounding "yes!" Maine isn't only a dream destination for nature enthusiasts – it also draws in foodies from across the world with its fresh seafood and other fare. Whether you're seeking a classic lobster-based meal or hoping for something slightly outside the box, you'll find a great eatery on our list of the 11 most famous restaurants in Maine.