The Biggest And Best Flea Market In Maine Is Montsweag Flea Market
When we're not sure what to do for the day, shopping is always a good option! While Maine isn't covered in shopping malls, we do have our fair share of fun and unique mom-and-pop shops. These are great for finding the perfect gift and for supporting the local economy. While many of these spots are open year-round there's one shopping experience that we look forward to visiting in the summer more than any other: the Montsweag Flea Market.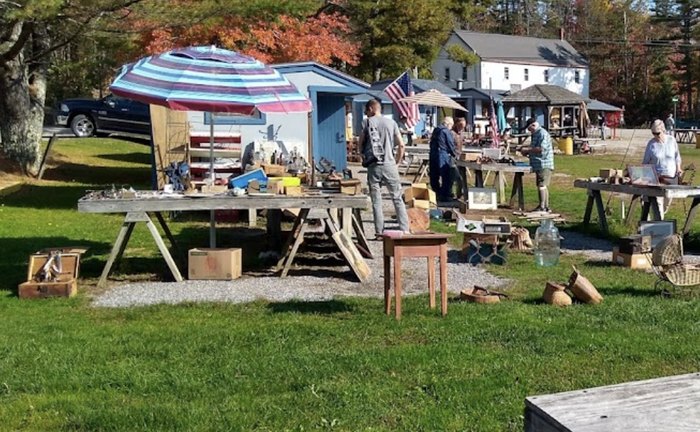 The Montsweag Flea Market in Maine is typically open Wednesday, Saturday, and Sunday from 6 a.m. to 2 p.m. from mid-May through October, and you can learn more at the official website.
If one flea market isn't enough consider visiting some of the others located throughout the state. Here are eight must-visit flea markets in Maine where you'll find awesome stuff!
OnlyInYourState may earn compensation through affiliate links in this article.
Address: 6 Hunnewell Ln, Woolwich, ME 04579, USA
Best Flea Markets In Maine
July 15, 2022
What are some other great options for flea markets and antique stores?
Maine is filled with treasures of an age gone by. Mom and Pop shops are everywhere housing antique goods and unique wares. Being in an older state has some serious benefits to it. So if you fancy a vintage item or an old possession that holds great value then Maine is a great place to look. Here are some of our recommendations and some of our favorites to go treasure hunting in. For another flea market filled with great finds then check out:
Southern Maine Flea Market in Scarborough. This large indoor flea market is filled with unbelievable collections. They have old video games to toys that are vintage and rare. They also have doll houses and ceramic villages. There is a little bit of everything for you in the Southern Maine Flea Market.
For a wide variety of flea markets please check out this list of seven of the must-visit flea markets in Maine. This list is a great place to explore to get a wide selection of treasure troves all around Maine. It seems like wherever you are in the state you can find these great locations spread out to every corner of Maine.
If you find yourself in Wells then you should check out these amazing antique stores in Maine. This little city is packed full of amazing finds, everything from a unique native American goods store to a three-story barn filled with vendors. They even have a store that specializes in antique car memorabilia.

If antiquing is a hobby of yours then check out this other extensive list we have of

10 great antique stores in Maine

.

If you can't get enough of all of these classic items then plan an

antique road trip across Maine, or better yet just read ours and follow along for the ride!

For something truly unique then make sure to check out this

Maine store that only holds nautical wares

.